We all know that the traditional mobile phones just come with two features i.e. messaging & calling. But when compared to traditional mobile phones, the latest smartphones come with large screens, Dual SIM features, 4G technology, and higher storage capacities. These all has led to draining of battery at a much higher speed.
Best Lightweight Android Battery Saver Apps
Just imagine, how annoying it would be – if you were dialing a urgent call, and if your smartphone gets off without charge… Ugh… really disgusting right? Fortunately, there are a lot of mobile apps that can only boosts the backup power but also save more battery power for future use.
List of Battery Saver Apps for Android Devices
Decided to download the battery saver app? Searching "Play Store" to find the right app? With thousands of applications available, it's really a daunting task to pick the right one. To save your time in searching for the best mobile apps, we have shortlisted the best collection of 10 battery saver application for android devices.
Greenify
Avast Battery Saver
Battery Defender
Battery Optimizer Fast Charger
Power Clean (Optimize Cleaner)
360 Battery Plus Battery Saver
Battery HD
Accu Battery
Battery Doctor
In this article, we are going to discuss all the features of the below given battery saving applications.
1) Greenify Battery Saver:
Rated as the best No. 1 battery saver! This mobile application help you identify and change the misbehaving apps into hibernation when you are not using them, to stop them from lagging your mobile phone and save the battery power, in a unique way!
They can do nothing without explicit launch of this application by you or other mobile apps,while still preserving the functionality when running in foreground, similar to iOS apps!
2) Avast Battery Saver:
Don't let your phone down; just install this awesome battery saver from Google Play Store! Designed with easy-to-use features, this application gives you complete control over your device. The features of this app include:
5 different modes – Smart, Home, Work, Night and Emergency.
This app adjust your phone settings based on the usage.
Switch to different profile based on your battery level.
Easily switch between profiles and manage them inside the app.
3) Battery Defender:
Just tap this app to extend your battery life! This comes with FREE Version. When your battery become low, this app automatically disable Wi-Fi connection and Data connection when you are not using your phone.
4) Battery Optimizer Fast Charger:
Download this app and boost battery life up-to 40% and increase the battery charging speed up to 30%. This battery saver application helps you monitor status of charge in the real time, and estimated time of remaining charge or discharge. This also provides voice alerts on the status of battery level like Low Battery, Voltage Fluctuations Overheating and much more.
5) DU Battery Saver:
With over 600 million users, this battery saver app remains the best. Thinking what makes this app the best? The answer is "Following Features"
Save power up to 60%
Battery optimizer and saver in just a one tap.
Phone cooler
Junk detector and cleaner
Super long standby mode
Battery saver widget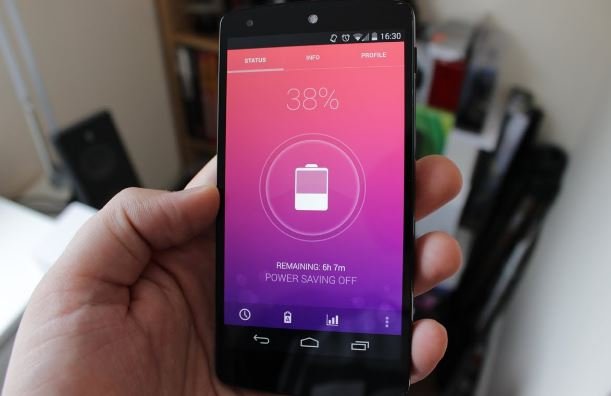 6) 360 Battery Plus Battery Saver:
This FREE Battery Saver Application makes you extend the battery life and slash down charging time under the power saving mode. It also helps you manage all draining apps, stop useless apps and decrease the charging time.
7) Power Clean:
With 4.6 rating out of 5, this battery saver app improves overall performance of your smartphone. This app integrates CPU identifier, CPU temperature monitor and CPU Cooler for Androidphones.
8) Battery HD:
Battery HD battery saver application is compatible for both android mobile phones and tablets. It is simple, beautiful and can be designed especially for your device with features including:
Widget
Notification bar
Charge Alerts
Usage chart
9) Accu Battery:
This battery saver application is designed to protect battery health, displays battery usage information, and measures battery capacity (mAh) based on scientific calculations.The highlights of this battery saver app are:
Displays the remaining charging time – know how long it takes before your battery is charged and also when you will run out of battery.
Live notification for real time battery statistics at a glance
10) Battery Doctor:
It's a FREE battery saver app to prevent battery from draining and save battery life & health. Key features include:
One Tap Optimization and Customization.
Smart Use of Battery
Battery Cooler
CloseApps When Screen Is Off!
Accurate Battery Remaining Time!
Nearly 28+ Languages Supported
Automatic Brightness Control
These are just few of the top performing battery saver applications! So what are you waiting for? Pick out the best app, visit Google Play Store, Install the App and Get Ready to Protect your Battery Health! 🙂