Forgot Windows 10 Password? Don't know how to access your computer anymore? The whole internet and technical forums are filled with these questions. Resetting Windows 10 password is not an enigma anymore since there are myriad of solution that could recover the forgotten password.
We have crafted a number of ways to recover Windows 10 password and in this tutorial we will show you two ways that could accomplish this task.
How to Reset Windows 10 Password Easily
Recovering Windows 10 password is significantly easier since the login password used is the same password you use for Microsoft account. All Microsoft related services such as Xbox, Skype, outlook, etc. are associated with the same password.
Likewise, Windows 10 also uses the same Microsoft account as the default account type. So, we will show you how to take this as your benefit to recover Windows 10 Password.
Solution #1: By Resetting Microsoft Account Password
Fortunately resetting Microsoft account is quite simple. You only require to have access to a different working computer or mobile device with a stable internet connection. Follow these steps to reset Microsoft and Windows 10 password.
Step 1. Head on to https://account.live.com/password/reset and select "I Forgot my Password" and hit next.
Step 2. Provide your Microsoft email ID or phone number on the next page and click 'Next'.
Step 3. Choose how you want to receive the one time security code. You can either choose Email or phone number to receive the code.
Step 4. Enter the code that you just received and proceed to the next page.
Step 5. You will be asked to input the new password. Enter any password in the empty fields and make sure to remember it this time.
Step 6. Turn on the computer and enter the password that you just set up in the above step.
You should be able to access your computer perfectly. Please remember that you will have to use this new password in all other Microsoft services including the Windows 10 login password. But if by any chance you do not remember the email or phone number used to create the Microsoft problem then this method will not work for you.
In that case you will be required to use a rather professional password recovery tool. We will be using UUkeys Windows Password Mate in this guide in the next method to recover Windows 10 Password.
Solution #2: By using UUkeys Windows Password Mate.
UUkeys Windows Password Mate is the best and rhetorical Windows recovery tool that is used to completely remove the password from the Windows login screen. Additionally, you won't lost any data from your computer and you do not need any email or phone number to use this software.
While other tools can take hours to recover the Windows 10 password, this program can reset the password within a blink of an eye. Let us expose how to use this software.
Requirements:
A different functioning computer.
An empty USB flash drive (1 GB storage)
UUkeys Windows Password Mate Program.
Step 1. Download the software on a different working computer or laptop and install the program. Installation process is quite easy and should be done within few moments. Next, launch the program to see the benefits of using it.
Step 2. Plug in the USB flash drive on your computer and let the software recognize the device. (Alternately, you can use a writable CD/DVD0
Step 3. Choose the USB flash drive name from the drop down option and click on "Burn USB' to start copying all the files to the flash drive. This may take few minutes and it is recommended to keep the flash drive connected to your PC to avoid any suspension.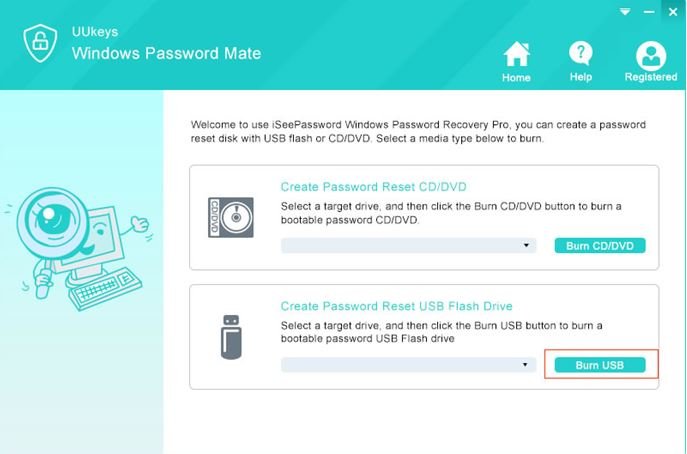 After the process is completed, the software will appear with a pop up message saying "Burning Successfully".
Step 4. Eject the flash drive and re-insert it on the locked computer and reboot it.
Step 5. Keep pressing F8, Del or Esc key to launch the boot menu and choose the USB flash drive name and press Enter.
Step 6. UUkeys Windows Password Mate will be loaded automatically and you will be seeing the following screen. First, select the operating system and choose the main username from the middle column for which you are trying to reset the password and click "Reset Password".
Step 7. Wait few moments while the tool resets the password and then click on "Reboot".
That should be all. You may now access your computer without any password.
Summary:
So, if you ever forget your Windows 10 password then you can use the tips mentioned in this article to reset it. You can use the same software to reset passwords for other Windows versions as well including Windows 10, 8, 8.1, 7, XP, 2000, etc.
UUkeys has been tested in all the Windows version computers and has a 100% success rate to reset passwords. It is recommended to set up a new password as soon you have access to your computer to avoid any stranger to access your computer. :)