Imagine when you wake up and you grab your phone and learn that all your contacts, photos, music, and documents were deleted. The feeling was so devastating for sure. It's like eating without foods. But do not panic because there is recovery software for Android phones that will solve these glitches.
Data recovery software is a program that can help take back lost files on Android devices. The necessity for data recovery software is very high nowadays because of the rapidly increasing number of people who use smartphones and these users become dependent on their phones.
There are times we cannot avoid unnecessary events that will lead to the deletion or loss of the important files that are stored on our phones.
This problem directs the development of a software solution for data loss. This software has a straight interface that anyone can use it even by non- savvy individuals.
The software is easily downloaded from the Internet to the user's computer. After installing the program and making a couple of clicking, the software can discover files that have been deleted or loss and restore it to your phone or tablet.
1] FoneDog Android Data Recovery for Recommendation
FoneDog Android Data Recovery is the best android data recovery software for 2019. This software is trusted by millions of users because of its effectiveness and the utmost data recovery attainment rate in the business. Recover your deleted files whether it is accidentally deleted, OS error, virus attack, and SD card problems.
This software enables the users to retrieve all the lost or deleted contacts, pictures, videos, music, documents or even your messages, call history and WhatsApp data that is saved from your Android phone memory, SIM card or SD card.
FoneDog well-matched many Android brands such as Samsung, Huawei, Sony, Motorola, ZTE, Xiaomi among others so worry no more because whatever is your brand it will certainly compatible with this software.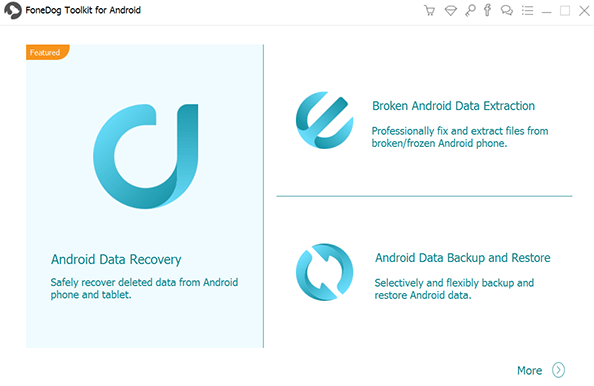 2] Why You Choose FoneDog Android Data Recovery
Listed below are the advantages of FoneDog Android Data Recovery from other recovery software.
1) Friendly- user
FoneDog Android Data Recovery is easy to use because of its friendly interface for everyone. This software is very friendly to the users which means it is not difficult to understand, not complex and provides quick access to its features and commands.
Since this software is intended for everyone, the developer ensures that this is almost invisible to us. We can comfortably use and understand the elements of FoneDog. Using common components in this software make the users feel more relaxed, facilitate efficiency, and are able to get things completed more quickly.
2) Free- trial for 30 days
You can use FoneDog Android Data Recovery software for the first time for free for 30 days. This is an awesome offer because you do not need to purchase it if you just want to try its effectiveness.
It allows you to preview the recovered files and select what you want to retrieve before recovering it with fast speed. Forget about paying a large amount for a product that is not tested and proven.
3) Secured data
Since FoneDog Android Data Recovery software is installed on your computer, you are guaranteed that all your files are kept safe. Personal data protection is very important because of the right to privacy that we should have.
Rest assured that all your data are only retained on your computer wherein you install the software. It does not allow any data sharing so you have 100% security on it.
4) Flexibility
FoneDog Android Data Recovery software is well- suited with more than 6000 Android devices worldwide. It is capable to recover your files due to damaged Android phones, accidental deletion, broken screens, and corrupted SD cards. Moreover, whatever Android phones you have, you would love this fastest, simplest, and safest user- friendly interface software.
3] To Recover Data with FoneDog Android Data Recovery Step by Step
To know how efficient this software, follow these steps.
Step 1: Download for free the FoneDog Android Data Recovery
After you downloaded the program from FoneDog site, make sure to install it to your computer. Simply follow the instructions on how to completely install it. Once you install it, you can now launch the program and you will be directed to the main menu.
Step 2: Permit USB Debugging
USB Debugging will allow connection between the computer and the phone; it will not harm your device. After launching the software, connect the device to the computer through USB cable. There will be a pop-up message that will appear that will ask you to permit USB Debugging.
Android running 4.2 and up
Open Settings on your phone.
Click "About Phone".
Search and tap Build Number for seven times until the message "you are under developer mode" appear.
Go back to Settings.
Click and activate Developer option.
Tick USB debugging box.
Android 4.1 and below
Open Settings on your phone.
Tap Developer option.
Check USB debugging box.
Step 3: Select files to recover
There will be a screen that will appear and ask you to choose the files you want to retrieve. You just need to tick the box of the files you want to come back. You can select pictures, documents, contact, call history, messages and many more or if you want you can select it all. Then, click Next to continue.
Step 4: Allow permission to FoneDog Android Data Recovery
The software will ask you first for permission to get access to the Android device for scanning the deleted items. Just click Allow / Grant/ Authorize to move to the next step.
Step 5: Previewing Recovered Files
You can now see all the recovered files in your android phone. If you want to preview it first to confirm what files you needed, you can do it. Once you have chosen your needed files to retrieve, just click the particular boxes for individual files or select all of them.
Look for the recover button at the bottom of the screen and click it. FoneDog Android Data Recovery will make you a folder for faster and easy access on your computer in which you can also set the file location you want.
You may also like.
Best Data Recovery Software for Your Mac.
PhoneRescue: The Best iPhone Data Recovery Software.