When it comes to owning a cafe, you can't afford to be without an espresso machine. This is a machine that your customers will expect to see as they walk into your business. You want to give a customer the best possible first impression.
Best Commercial Espresso Machines
You can do this by making sure they see that you have one of the 5 best new espresso machines. If you're new to this, here's a guide where you can read about the specific demands for small business coffee machines.
Nuova Simonelli Appia II Compact Volumetric
The Nuova Simonelli Appia II Compact Volumetric is a compact, lightweight, and extremely handy new machine that is perfect for counters with limited space. It's perfectly designed to give you top quality espresso in a short amount of time. Your customers will appreciate the professional touch that it brings to your location.
The machine is cost effectively priced and very easy to assemble. Its total dimensions are a compact 21 inches tall, 22 inches wide, and 22 inches in depth. Its two-group arrangement offers automatic and manual dosing in a fraction of the time needed by older machines. With direct connect plumbing, it's a breeze to plug in.
You won't have to worry about taking too long to clean the machine. The automatic cleaning system cleans the groups all by itself.
Meanwhile, thanks to the cool touch steam wand, you'll never have to worry about burning your hands again. The raised group heads will let you pour as tall a cup of espresso as you like with no hassle.
La Marzocco Linea Single Group Automatic
The La Marzocco Linea Single Group Automatic comes fully equipped with a wide variety of new features. These are advantages that make it one of the top selling new espresso machines on the market.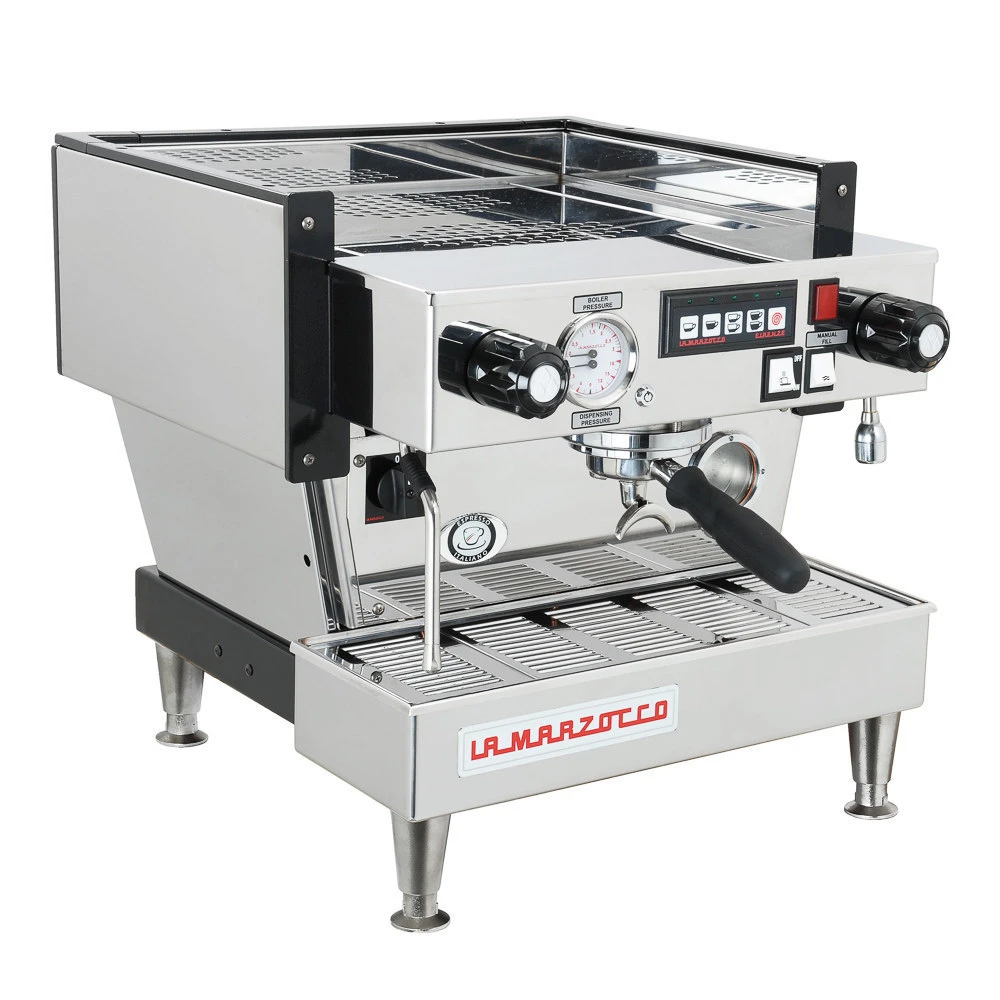 Chief among them is a 1.8-liter coffee boiler backed up by a 3.5-liter steam boiler. The sheer capacity this machine produces is simply amazing.
The machine is backed with a full warranty of guaranteed quality that comes directly from the maker. Its NSF certification and direct-connect technology make it one of the longest lasting machines you can purchase.
Its external rotary pump makes repairs quicker and easier to complete than ever. Saturated group heads eliminate heat loss.
Nuova Simonelli Musica Lux
One of the most exciting new features associated with the Nuova Simonelli Musica Lux is a specially designed articulating steam wand. This beauty lets you move the steam wand to any angle you desire. This gives you the perfect level of control over the angle you want froth to pour into each cup. You can't ask for finer accuracy.
Although only a single group machine, the Musica Lux more than makes up for it in other areas. The plumbing is direct connect with a pour over option included to give you the highest level of convenience.
The specially customizable hot water spigot allows you to mix things up by pouring tea or Americano at your customer's demand.
La Pavoni Commercial Volumetric 2 Group Bar-Star 2V
The La Pavoni Commercial Volumetric 2 Group Bar-Star 2V is one of the priciest models on this present list. But if you own a cafe that sees a high volume of customers, you will find this is the machine that more than repays your investment. It's a 2-group machine with direct connect plumbing and a specially designed heat exchange boiler.
It comes with inbuilt automatic and manual dosing options that allow you to switch between the two at the drop of a dime. The 14-liter boil ensures that you will never run out of steam to pour more cups of espresso with.
The steam wand comes with an anti-vacuum valve that will prevent it from getting clogged up and too hot to handle.
La Spaziale S1 Dream
The aptly named La Spaziale S1 Dream is truly a dream come true for many care owners all across the globe. It's a dual boiler model that comes complete with direct connect plumbing.
This will allow you to operate the machine at any hour of the day or night. The SD card reader will allow you to use the programmed recipes or create your own.
You can show off a bit to your customers by using the manual semi-automatic button. This allows you to keep a bit more personal control over things.
If you prefer to let the machine do the work, set it straight back to automatic. You can also use the Programmable Passive Pre-Infusion system to create your own settings for drinks.
Order Your Top-Quality Espresso Machine Today
You will only have one chance to make the best possible first impression on a new customer. To do it the right way, you need to have the best equipment at your location.
Any one of the 5 new espresso machines on this list will give you instant credibility with your local audience. The time to order one for your cafe is now.