Some of you may face the situation that important files in your hard drive have been formatted and become inaccessible. Whether the disappeared files are formatted accidentally or purposely, the fact is the files you needed are not resident on the drive anymore.
To regain lost data on a hard drive is a challenging thing. But don't panic. In this post are some practical suggestions to help you restore the file system and regain access to the lost files. Stay put and keep reading to learn how to recover a formatted hard drive for free in Windows 10.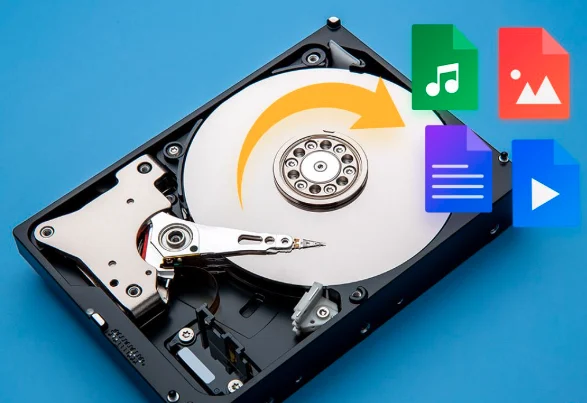 How to Recover a Formatted Hard Drive in Windows 10?
Using backups to recover formatted data is always the first option in most data loss situations. However, this method is only sometimes available. Few people will back up disk partitions on their computers, not to mention external hard drives. So what can you do if you don't have a backup?
No worries. You can employ professional data recovery software to enact a formatted hard drive recovery for free without backups in your Windows system. However, the market is chock-a-block with mixed-up data recovery tools. It becomes challenging to choose a free and effective one.
After our research of various file recovery tools from perspectives of price, functionality, compatibility, recovery success rate, and simplicity, we finally found two excellent options, including a completely free tool WorkinTool Data Recovery. You can learn and try the following two tools and see which suits you more.
Recover Files from a Formatted Hard Drive with WorkinTool
WorkinTool can solve nearly 99% of data recovery problems, whether for internal hard disks or external hard drives. Recently, it released a new data recovery software tool called WorkinTool Data Recovery. This newly-launched software, aiming to build profiles and develop markets, will remain FREE for a long time. In addition, various features come along with free pricing, including but not limited to the following.
Multiple Devices Supported: It can recover files from formatted, corrupted, or suddenly crashed devices, which cover computer disks, external hard drives, USB flash drives, memory cards, digital cameras, etc. SD card recovery is feasible as well.
Easy to Use: A straightforward and streamlined interface makes a recovery process a piece of cake. Users of any age or skill level can utilize this tool without learning professional knowledge or industry insider techniques.
Various Recoverable Files: WorkinTool Data Recovery works perfectly with all types of files, video, audio, photo, archive, document, database, email, and more.
High Success Rate: As long as the formatted data is not replaced by new information, this tool can successfully bring it back without breaking a sweat.
Features in Use
See how to recover a formatted hard drive with WorkinTool below.
Step 1: Launch WorkinTool Data Recovery and select Formatted Recovery on the main page.
Step 2: Locate the target formatted hard drive and click Scan Now.
Step 3: In the File Type menu, you can select the files you want to recover. Or you can use the Filter and search box to search formatted files by type, name, date, or size.
Step 4: Click Recover and set your saving path. Then wait for a while for the recovery process.
Recover Data from a Formatted Hard Drive with Disk Drill
There is another formatted hard drive recovery tool named Disk Drill. Its free version offers features like data recovery (limited to 500MB), data protection, and drive backup. Apart from the same properties that WorkinTool has, it also wins popularity for the following advantages.
Compatibility: Unlike WorkinTool, which is only compatible with Windows, Disk Drill is attainable on both Windows and Mac systems.
Preview Feature: Disk Drill enables users to preview the detected files before undergoing the recovery process, thus ensuring the accuracy and success rate of the recovery.
Features in Use
If you don't mind the limited recovery storage of its free version and longer waiting time than WorkinTool, try it. And you will not regret it. Here is how to recover a formatted hard drive with Disk Drill in Windows 10 with its free version.
Step 1: Launch Disk Drill and click Search for lost data for the drive you want to restore.
Step 2: Press the Review found items button in the top right or click the file type icons to preview the found items.
Step 3: Press Recover all or select specific files and hit Recover to bring the formatted data back.
Can a Formatted Hard Disk be Recovered?
Yes and no. A formatted hard drive can be recovered. But concrete analysis should be made according to specific situations. A few circumstances can make the recovery process more or less tricky, based on which kind of drive you are using and how you format the hard drive.
Hard Drive Types: Hard disk drives (HDDs) store data physically. Regaining access to formatted files on hard disk drives is possible and easy. However,

solid-state drives

(SSDs) use the TRIM command to manage data blocks. When you delete stored data on an SSD, TRIM erases the data. So, getting formatted files on an SSD drive is trickier and nearly impossible. You should keep a regular backup if you are using SSDs.
Formatting Methods: Quick format changes the file system while still retaining the data on the drive. You can still get back the formatted data unless you keep using the drive and overwrite the sectors that contain the hidden data. But full format will overwrite the deleted data with zeroes, which means the stored files are removed permanently. So fully formatted drives are trickier to be recovered using ordinary data recovery software.
Bottom Line
This post offers two practical solutions to recover files and data from a formatted hard drive. Both are free, but WorkinTool Data Recovery is most recommended because it is completely free and contains no recovery storage limitation. It performs internal and external formatted hard drive recovery without any obstacles. What are you waiting for? Give it a try, and you will not regret it!