If you are using an iPhone and looking for the options to transfer your data from your phone to PC, iTunes is possibly the only option. With the latest update, iTunes does not offer fluid functionality for transferring your videos and photos to PC.
In that scenario, an iPhone manager app in the form of Dearmob iPhone Manager is an excellent option by every standard. How is it different and how can you use it to transfer your photos and videos from iPhone to PC without iTunes? Let us check out in this post.
Why Opt for Third party file Transfer Options?
The conventional methods of transferring your media files from iPhone to PC involve installing iTunes on your computer. In addition to iTunes, you would also need access to several other tools like Apple Application Support 32-bit & 64-bit, Apple Mobile Device Support, and Apple Software Update.
Even after this Windows may or may not recognise iTunes. Even when it does, you may end up transferring files from camera roll. If you are looking for the alternatives that simplify the process, DearMob iPhone manager is an excellent option for all your needs.
1] DearMob iPhone Manager – An Overview
Simply put, DearMob iPhone Manager is an excellent and easy to use iOS Manager for all your needs. It makes use of the decryption method to accomplish the task and can be one of the excellent alternatives for all your file transfer requirements.
Some features that make it a great choice include.
There is absolutely no need to install iTunes or any other third party software from Apple. This will help you avoid the issues associated with iTunes and tools thereof.
It can double up as a DRM removal tool and aid you in letting you transfer and play the DRM protected data easily on any device.
A 1:1 lossless conversion and transfer that preserves the quality of your media even after conversion.
Transfer your files in batch or selectively.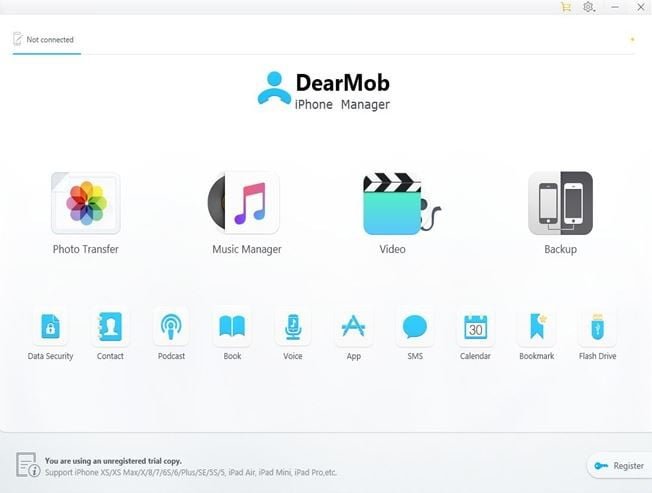 2] How To Transfer Photo and Video using DearMob?
DearMob is the best means of transferring your iPhone photos and videos easily to your PC without the need to depend upon iTunes or any other Apple software. It involves a few simple steps and you are done.
Here is how you can achieve the task. Do note that it is one of the simplest methods back-ups and restore your photos and videos without the need for any extra efforts. You get a One-Click Access to all your needs.
Connect your iPhone to your PC.
Tap on Trust this computer on your iPhone when prompted.
Launch DearMob iPhone Manager.
Choose Photo Transfer on your main interface.
Choose an entire album or choose your photos individually.
Click on Export. This will begin transferring your selected files.
The major advantages associated with iPhone photo transfer using DearMob iPhone Manager include the ability to convert the HEIC files to JPG format and an option to encrypt the data from your iPhone so that it will not be accessible to anyone else than you.
To convert HEIC to JPG, click on Export HEIC to JPG among the options available under Export Drop Down. You can check the box for Export with Encryption for encrypting your data.
Besides, DearMob can keep the meta information of the pictures including the geo tag after exporting from iPhone.
DearMob is indeed the best option to transfer photo to PC without iTunes. You will find it the easiest alternative to iTunes or other similar tools.
The Parting Thoughts
Getting a good iPhone manager tool is indeed a difficult task. Given the secure nature of iOS, most of the phone managers tend to fail in what they are supposed to do.
It may not be the official app, but the defense grade encryption that it relies on should work in your favor and make it a great choice in its own right.