All districts of Dubai are unique in their own way. Every community is making the most of its location's advantages. This is why end-buyers and tenants can have access to numerous amenities and property types, such as luxury villas for sale in Dubai the UAE.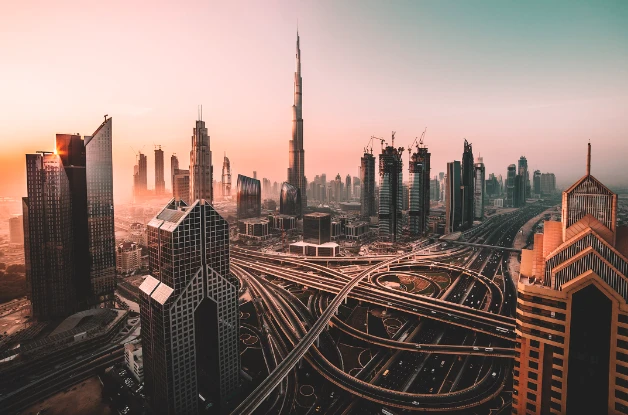 For instance, residents of the Downtown neighbourhood are close to the city's attractions and business infrastructure, while those living in the Jumeirah district have access to the sea and a developed beach infrastructure. According to the official source, https://www.axcapital.ae , Dubai's most populated areas are also historically believed to be the most beneficial for real estate investment.
Top 7 areas to make real estate investment
Downtown Dubai
The incredibly tall Burj Khalifa skyscraper, the fabulous Dubai Mall, and other iconic landmarks make Downtown Dubai recognised throughout the world. The region is renowned for its wealthy lifestyle, which includes premium dining, shopping, and entertainment of the finest quality.
Downtown Dubai is located right next to Sheikh Zayed Road. This provides easy access to neighbouring areas.
Property types and prices
Downtown Dubai is known for its premium multi-apartment residential developments. The properties sold here are primarily penthouses and luxury apartments. If you're purchasing an apartment with a view, make sure to look around to see if there are any other scheduled developments that may block your view in the future.
Here, prices are some of the highest in the metropolis. The average cost of a one-bedroom apartment is AED 1.4 million ($381.1 thousand). In the Burj Vista premium complex, three-bedroom apartments cost about AED 6 million ($1.6 million).
Compared to other areas in Dubai, Downtown Dubai has a lower average return on investment (ROI). This means it is generally favoured by owner-renters.
Business Bay
Business Bay is an area with Downtown Dubai nearby. There are also plenty of high-rise buildings here. This is a developing district, the business and commercial hub of the city. Upscale shopping malls, restaurants, and hotels can be found here.
Business Bay is considered a new development with numerous skyscrapers and exciting projects from prominent developers still under construction,.
Safa Park, Sheikh Zayed Street, and the Burj Khalifa, to name a few of the local attractions, are all easily accessible from this location. Many corporations from neighbouring business areas have chosen to move to Business Bay due to the more affordable prices.
Property types and prices
Workers and families will find here a lot of newly-built high-rise complexes with excellent infrastructure.
Property prices are lower than in Downtown Dubai, but with much higher returns. The average cost of two-bedroom apartments is about AED 1.4 million ($381.1 thousand).
Dubai Marina
Dubai Marina is one of the most sought-after places in the city. This area has a variety of apartment options with views of the marina and simple access to shops, malls, and cafes.
The Dubai Marina district is well-liked by both working professionals and families with children due to its proximity to the city center, Dubai Media City, and Dubai Internet City.
Compared to other areas, this is a good option if you are searching for a higher ROI.
Property types and prices
High-rise apartments, townhouses, and lavish villas are all available for sale here. Although the prices are cheaper than in the Downtown area, this neighbourhood is one of the most favoured by young professionals, so the return is pretty high.
Depending on the project, you can usually find apartments worth AED 1-2 million ($272.2 thousand to $544.5 thousand). For example, a two-bedroom apartment will be available for AED 2 million ($544.5 thousand).
Palm Jumeirah
A man-made island in the shape of a palm tree that is three miles long and three miles wide, Palm Jumeirah is considered a modern wonder of the world.
There are several eateries, hotels, and resorts in this area because it was created as a vacation spot, including Fairmont and Atlantis. Here, ROI is not as high as it is in Downtown Dubai. downtown.
Property types and prices
Palm Jumeirah consists of 4,000 exclusive villas and several newly-built housing estates.
Villa prices vary depending on size and location. The majority of villas are big and have five to seven bedrooms.
You can buy a six- or seven-bedroom villa for around AED 6 million ($1.6 million). Five-bedroom villas can be purchased for slightly more than 3 million AED ($816.7 thousand).
Jumeirah Village Circle (JVC)
This newly established and modern district has been designed to provide residents with a peaceful and welcoming environment. It is situated far away from the hustle and bustle of the busy city.
JVC is evolving as a modern community with 2,800 spacious villas and 3,100 townhouses, and plenty of green zones between each block.
Young families with children will find numerous amenities, including parks, nurseries, schools, sports grounds, and public centers. This neighbourhood is most popular with families who want to reside in a peaceful environment, but with easy access to all the amenities of contemporary life.
Property types and prices
In comparison to areas located closer to the center, you won't find many high-rise buildings here. Many villas come with four bedrooms and three terraces, as well as a spacious two-car garage. On average, you can buy a four-bedroom villa for about AED 2 million ($544.5 thousand).
Many families love this area. They often look for buy-to-invest or buy-to-let options, so when compared to certain other districts, the returns here are also higher.
Jumeirah Lake Towers
Jumeirah Lake Towers has the highest concentration of high-rise towers in Dubai. It is near to Dubai Marina and located right across Sheikh Zayed Road.
There are about 80 residential complexes and multi-purpose towers in the area, as well as many high-class hotels. It has many restaurants, shopping malls, supermarkets, schools, hospitals, and entertainment venues because it is a residential region with a high density of population.
The Dubai Metro also passes through this area, which will be advantageous for those who enjoy taking public transportation.
Property types and prices
The majority of the projects with magnificent apartments can be found in this region. In addition to these, there is also a wide selection of studios, serviced penthouses, and hotel suites.
Penthouses cost from AED 4 million ($1.089 million) to AED 6 million ($1.6 million), while a one-bedroom apartment can cost you AED 500,000 ($136,000) to AED 1 million ($272.2 thousand).
Arabian ranches
Arabian Ranches is perfect for people willing to invest in elite villas. This gated community has become one of the most demanded locations in Dubai over the past few years.
The area is still under active development, and investor demand is rising. The area is very popular with families. It is also considered one of the fastest growing communities.
The Arabian Ranches project is located on the outskirts of the city, closer to the desert. This enhances a feeling of sufficient distance from the noise and bustle of city life. Many amenities are available to the locals and guests, including golf courses and a polo club.
In total, 20 different sub-communities have been built here with different types of villas and well-thought-out infrastructure.
Property types and prices
Arabian Ranches sells spacious villas as well as townhouses for small and large families.
The average cost of villas is AED 5 million ($1.3 million). There are many high-end projects with exclusive properties, such as the Polo Homes sub-community. Luxury villas can be priced as high as AED 18 million ($4.9 million).