During the initial years of Bollywood, the element of action was never an important part. The little bit of action that you get to see is in the classic films that had Dev Anand, Raj Kapoor or Dilip Kumar, that too of 1-2 minutes of action sequences.
Best Bollywood Action Movies to Watch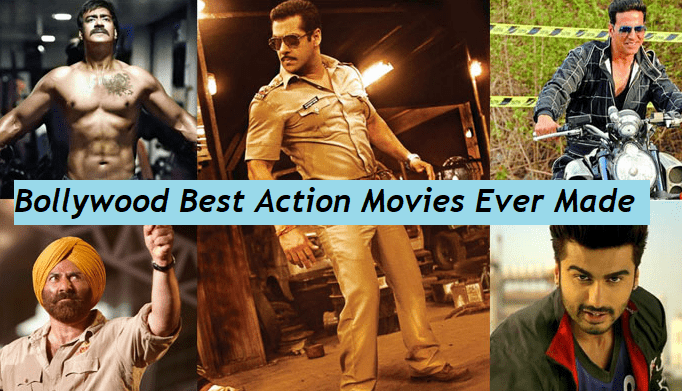 The 50s era was predominantly romantic and dramatic. However, as Amitabh Bachchan stepped into Bollywood, he changed the face of Bollywood with back-to-back action hits. Let's check out few of the best action movies of Bollywood.
1] Zanjeer (1973)
No, it is not that there were no action movies before Zanjeer but this thriller movie made in 1973 kept the ball rolling for Bollywood's new trend.
Amitabh Bachchan introduced the 'angry young man' look and this brought about a major overhaul to his persona in the industry. From a struggling actor, he became a superstar overnight. This is a Prakash Mehra directed film.
2] Sholay (1975)
Sholay is undoubtedly a legendary film in Bollywood which is spoken of even today. Being directed by Ramesh Sippy, this is a multi-starrer and is the powerhouse of evergreen dialogues, the character of Gabbar Singh, the chemistry of Jai and Veeru.
In short, Sholay is a masterpiece. The dacoit-themed fight sequences shot in the villages imitate westerner films of Hollywood.
3] Deewar (1975)
Deewar is a story of two siblings who are followers of totally different paths in life and gradually they reach an intersection between the Good and the Evil.
Ravi is played by Shashi Kapoor and Vijay is played by Amitabh Bachchan and it is a Yash Chopra film. Their brotherhood and love is challenged and gradually leads to a distance between them.
4] Don (1978)
If Sholay is said to be an imitation of Hollywood westerner films, Don is said to be the Bollywood copy of Hollywood mafia movies with a slice of moral values and drama.
A layman, Vijay sadly looks like an Underworld Don who is from the 'Most Wanted' list. To assist the police, he chooses to act as the real Don after his death during a police encounter. Don was again remade by Shah Rukh Khan which was also a superhit.
5] Manikarnika: The Queen of Jhansi (2019)
This film is directed by Kangana Ranaut, Radha Krishna and Jagarlamudi it made a box office earning of 150 crore. This is an action drama that was entirely based on the great Rani Laxmi Bai, the Queen of Jhansi.
The story shows you how Rani Laxmi Bai sets the stage for the Indian rebellion against the British in 1857. Kangana Ranaut successfully portrayed the role of the Queen of Jhansi.
6] War (2019)
Directed by Siddharth Anand, this Hrithik Roshan and Tiger Shroff starrer made 450 crores at the box office. War is one of the most recent action thrillers that relate the story of an Indian Army man who is given the confidential task of killing his corrupt mentor.
There is non-stop action in the movie, thanks to the performance of both Tiger Shroff and Hrithik Roshan. War is considered as one of the most engrossing movies of recent times.
7] Uri: The Surgical Strike (2019)
This is a military action movie based on a true story of the 2016 terrorist attack in the town of Uri. It has given a new shape to the fight of the Indian Army being led by Major Vihaan Singh Shergill at the LOC, Kashmir. This is an event in Indian history that makes us proud and the movie scored 8.3 out of 10 on IMDb.
8] Ram Lakhan (1989)
Post Deewar, this is one more tale of two brothers. This fil was directed by Subash Ghai and is an action drama where Ram and Lakhan are played by Anil Kapoor and Jackie Shroff respectively. The film mainly revolves around the bonding between the two brothers and their gradual rivalry.
9] Agneepath (1990)
The era of 1990s was literally shaped by Agneepath, an Amitabh Bachchan starrer film. Though it was a disaster due to its wrong timing of release, yet it is still remembered as one of the most important action films of Bollywood. Bollywood became more stylish after films like Agneepath.
10] Ghayal (1990)
Sunny Deol's success ride began with this Rajkumar Santoshi film and this movie turned him into one of the best action heroes of Bollywood. The story is about a brother trying to take revenge against his sibling's death against Balwant Rai, a crime lord. This film was remade in different languages.
11] Kaalia (1980)
Kaalia is directed by Tinu Anand and it was released in 1980 starring Amitabh Bachchan as the main protagonist. This film tells the story of a young lad who is coerced to join the criminal world after being held responsible for theft. Through the process of conviction, he emerges as a more confident man.
12] Phool Aur Kaante (1991)
Ajay Devgn is a revered actor of Bollywood and he has also won the National Film Award for his role as the best actor a number of times. This action movie of his was released in 1991and it introduces Devgn standing on two bikes at the same time. This movie also has action hero, Akshay Kumar in it.
13] Baaghi (2016)
Directed by Sabbir Khan, this movie was released in April, 2016 and it did a business of 127 crore in the box office.
This action movie is based on martial arts and though the plot is predictable, the fight scenes are extraordinary. Tiger Shroff is the biggest reason behind the success of the film.
14] Khalnayak (1993)
This is one of the gems of Subhash Ghai and the film worked entirely on the screenplay and script.
In spite of including actors like Sanjay Dutt, Jackie Shroff and Madhuri Dixit, the film did well only due to the storytelling abilities of Ghai. The character of Ballu is also said to be one of the best performances of Sanjay Dutt.
15] Mohra (1994)
Mohra is a masala flick that stars Suniel Shetty, Akshay Kumar, Raveena Tandon, Naseeruddin Shah and Paresh Rawal in the pivotal roles.
This film is a perfect amalgamation of drama, action, comedy, romance and suspense. The song, 'Tu Cheeez Badi Hai Mast Mast' earned Raveena Tandon her nickname of 'The Mast Mast Girl'.
You might like.