Welcome back friends, Today Just Web World we're back with a new post on Best linux music media player apps. Music is an essential part of our daily life, many people are addicted to listen to songs on daily basis which is even good for our mental because as per doctor's daily listening to songs for 5 minutes is a must act and keeps our mind fresh and active, and that's why today we came up with some awesome music players for linux users. So, without wasting much time let's get on these 10 best linux music players app.
Latest Free Linux Music Player Apps
Banshee
Banshee is really an great music player it's compatible with all familiar OS like windows, and MAC OS. The best thing which everyone loves about banshee is it can play any format of music and videos. This app can also be used to stream songs online and some of devices too.
VLC
I guess everyone knows about VLC and though it doesn't need an heavy definition still here is some info about VLC if you might not know. VLC is a much popular music app which works with most of the OS and is compatible to play any song or video of any format. The best thing which i love about this app it's their shortcuts and editing feature.
RhythmBox
RhythmBox is a great app for playing music. It's the default music player app in UBUNTU but is compatible with LINUX too. This music player is very basic and looks nice and tide and even its easy to use it. This music player can be used to play music from podcasts or online too.
Amarok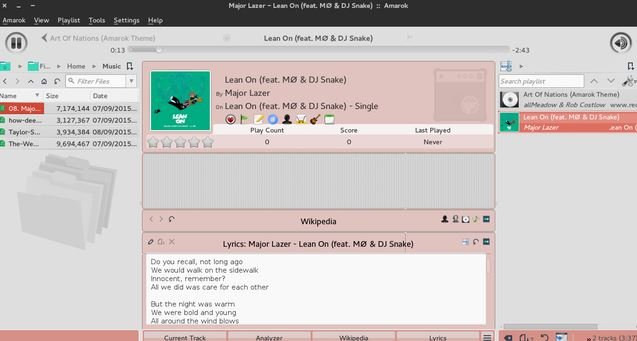 Amarok is a very basic music player with great features it somewhere look likes VLC but its much greater than it in terms of quality of sound and background beats own created by the app. The one thing which i love about Amarok is finding lyrics option box provided in it for finding lyrics online.
Gnome Music
Gnome Music is one of the greatest app which i have ever used, this is the default music app player for Gnome Desktop Environment. This app has very clean interface with different different categories like for genre, playlist, album, etc. Thing which i like about this app is its very light and has an very attractive look.
Cmus
Cmus is command based music player this one is for coders actually this app is best if you know how to set it up and start using. According to me it's one of the best players with awesome features for music. It support most of the music extensions and allow playing music online from Shoutcast and Loudcast.
Audacious
Audacious is a very simple and lightweight music player. It basically allows you to play music which are already in your HDD or SDD. It does not connect to any online music store for listening and downloading songs but still it's an awesome player if you want to have one on LINUX. The best about this player is it consumes even lesser than 10 MB of ram for background music playing.
DeadBeef
DeadBeef is a pretty old name in music players but till now it has the same built quality and to be frank its the best music player if you want to have a basic, awesome and old type of classic music player currently for LINUX. i have been using this music player since many years and till now have because of its built and sound quality.
Clementine
Clementine is also a good music player moreover designed like itunes but not actually like it. In this app you can have different different folders and categories in this music player for searching music.
LollyPop
Lollypop is another music player which have a basic look and platform. It support most of the music file extensions. It has a search option which enables users to search the song they want to listen.
Free Music Downloading Apps For Android
Conclusion
Above we have shared the best top 10 media music player apps for linux. If you have any question then you contact us using contact page or you might write a comment below. Do not forget to share the post because sharing is caring.
Thanks For Giving Us Your Precious Time. 😀