Is it time for your company to use interactive displays?
The traditional whiteboard is out of date, electronic whiteboard is a new type of multimedia teaching equipment, it composite projector, pc, speaker, and camera. It could use in education, commerce, exhibition, new retail, and hospital display.
Principle: the surrounding of the electronic whiteboard is covered with infrared receivers and infrared transmitters, which correspond to the formation of a cross-infrared matrix. When the user touches the screen, the system can quickly image.
How to choose a digital white board brand?
Choosing the best whiteboard brand can be a daunting task. Because each brand of whiteboard functions, software, hardware, and prices are different. I'll show you why I picked the Reyeah smart whiteboard, and what is it different from 5 other famous brands.
▶BUYING GUIDE◀
Vibe Interactive board.
Microsoft Surface Hub2s.
Google Jamboard.
Samsung Flip 2.
Cisco Webex Board.
Reyeah Electronic Whiteboard.
| | | | | | | |
| --- | --- | --- | --- | --- | --- | --- |
| Brand | Vibe Interactive board | Microsoft Surface Hub2s | Google Jamboard | Samsung Flip 2 | Cisco Webex Board | Reyeah Electronic Whiteboard |
| 4K UHD Touch Screen | √ | √ | √ | √ | √ | √ |
| Real-time Interaction | √ | √ | √ | × | √ | √ |
| Cloud Storage | √ | √ | × | × | × | × |
| Infinite Canvas | √ | √ | × | × | × | √ |
| Android APP Store | √ | √ | × | × | × | √ |
| Price | $2997 | $8999 | $4999 | $1999 | $4990 | $449-$2000+ |
Note: Reyeah from $449 does not include shipping and customs duties, depending on the country, and weight, shipping, and customs duties will vary.
Most of the big brands' prices are due to the high cost of brand promotion. Finding a brand company with after-sales service is a good choice. Reyeah interactive whiteboard manufacturers can customize hardware sockets and memory, system upgrades, and other services for your needs.
Contact us for more options, Email: [email protected]
Learn More Reyeah Electronic Whiteboard Specifications
Resolution: 2K/4K.
Brightness: ≥550cd/m.
Contrast: ≥5000:1.
Color: 1073.7m.
Viewing Angle: 178º
Size: 55″/65″/75″/85″/98″/110″
Touchpoints: 20 Touch Points.
Cpu: Intel i3, i5, i7, i9.
Memory: 2G/4G/8G.
Hard Drive: 16G/32G/256G Solid-state Drive.
Mechanical Hard Disk: 1T.
OS: Android 6.0/Android 9.0/Android 11/Windows 7/

Windows 10

.
Input Power: 220V AC 50HZ.
Sound Card: Integrated Hd 5.1 High Fidelity Sound Card Chip.
Let is analyze digital whiteboards for business
Performance
Is the positioning accurate? How is the sensitivity? Is it convenient and humanized? How about the hardware and software parameters? How are the interactive displays?
Each Reyeah electronic whiteboard has been strictly controlled and tested, and we also have independent research and development team, which can guarantee the quality.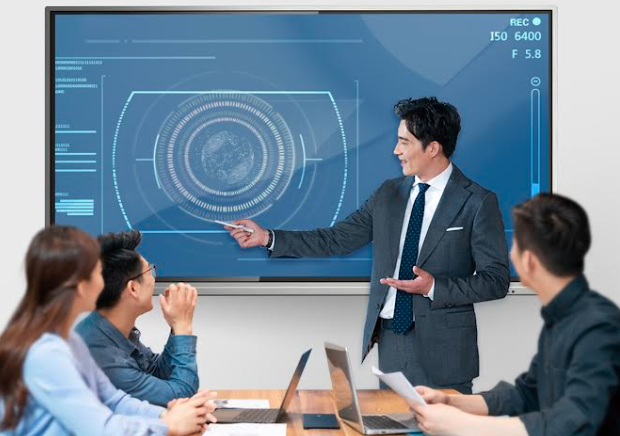 Price
After comparing the performance, we are most concerned about the price. If you choose a big brand, they need to pay high advertising costs, so the price is higher. It is best for users to choose a manufacturer with an R&D team, and you can find the best cost-effectiveness.
Reyeah interactive whiteboard companies is a manufacturer, not a producer. It has a 50,000-square-meter factory in China, its cost-effective price only starts from $449.
After sales
The after-sales problem is a problem that many users will ignore, and they may regret it after the product has problems. Reyeah smart board suppliers have an after-sales service system, including a 1-year panel quality guarantee, 3 years accessories quality guarantee, software full life update, and 24-hour after-sales service.
Therefore, if your business needs large-scale procurement, or you want to be an agent of electronic whiteboards, please contact us, and we will custom whiteboard according to your requirements.