Faxes are extremely important when there is a need for a hard copy of any document instead of a virtual one. Fax cover sheet is the preliminary document that is faxed to the recipient before the actual fax message.
Create A Fax Cover Sheet – Printable Fax Cover Sheet
They are important as they relay information about the sender (name, contact number etc.) however, they are considered optional in fax marketing as the intended purpose is to merely identify the sender as well as to state the intended recipient.
Fax sheets can be plain and simple or can possess some design elements according to an individual's personal preference.
The Need for Fax Cover Sheets
As previously mentioned, fax cover sheets are not an essential element for sending a fax. Different business organizations and individuals differ in their opinion of using them.
Some organizations feel the need to dispel them as they do not add any value to the process, as fax messages come with details that help in the identification of the sender. They are an unnecessary expenditure that is essentially wasteful.
Alternately, some business groups make it a practice to precede their fax messages with a fax cover sheet so as to provide instant identification of the sender.
Having a customized fax cover sheet also helps in building brand recognition and doubles up as a covert publicity and marketing technique.
It also helps that having the recipient's name and information on the cover sheet ensures that the fax is readily dispatched to the concerned department or person.
Types of Fax Cover Sheets
Most fax cover sheets contain the basic necessary information such as the name of the sender and their contact details as well as some details about the receiver of the fax.
They might also contain instructions as to how the fax message needs to be processed. There are different types of fax cover sheets and their utility varies. Here's a look at the variety of fax cover sheets currently being used:
Work-based Fax cover sheets: Using words to convey the message of the fax, these type of fax cover sheets appear formal and are more suited for business proposals and transactions. Most business fax cover sheets are word-based types.
Illustrated Fax cover sheets: The major difference between word-based and illustrated fax cover sheet is that in the latter one, the primary medium is an image. Unlike the business type look of the former, these type of fax medium generates a quick response as an image guarantees instant attention of the recipient.
Hybrid Fax cover sheets: As the name specifies, on can also use an amalgamation of a word based cover sheet with an illustration. This guarantees instant attention, thanks to the use of the image as well as has the necessary details of sender and receiver's names for an appropriate.
Understanding the difference between the various types of fax cover sheets lets you make an informed decision to choose one which best suits your purpose.
How to Create Your Own Fax Cover Sheet?
Creating your own fax cover sheet is not a highly technical job. Since most of the users are well versed with basic Microsoft programs like Word, Excel etc. designing your own template is like a walk in the park.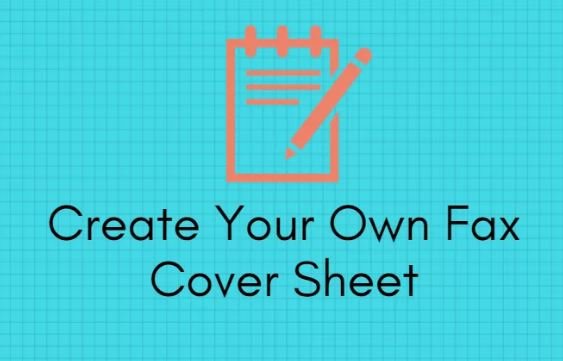 A basic knowledge of Microsoft Word along with the ability to use the internet can help you design your own customized fax cover sheet. The various steps necessary for the creation of your own fax cover sheet are:
Open a new file: Create a new file in the Word program by clicking on the "New" option in the File tab. Choose a blank document if you are provided with multiple options.
Create a template: The first step in creating a template is to put your logo and Brand name at the top position. Create a table (with invisible lines) to keep the text aligned properly. You can create tables as per your requirement – one for the sender, receiver etc. To appear business-like using this format – Name, Position, Organisation, Email, and Contact Numbers for the sender. For the Receiver, it is imperative to add their full name, designation and the name of the To attract attention to the fax, you can either add an image at the bottom of the page or add a paragraph regarding how you wish the message to be handled.
Fill required information: Post the creation of the template, all necessary information like sender's name (and related information), receiver's name etc. can be added. However, before making the changes, it is essential that you first save the file. This ensures that you have a blank customized template fax cover sheet ready. Every time you need to add one of these with your fax, just fill the necessary information and press send.
Advantages of Using Fax Cover Sheets for Business
One can opt for customized fax cover sheets or design them on their own using the free templates available on the internet.
However, many business owners and start-ups are apprehensive about using fax cover sheets for business dealings. However, this hesitation is unnecessary as there are certain advantages associated with using them:
Work becomes easier – One can easily use one of the various free fax cover sheet template to provide their business an opportunity to look classy while saving on time (to design cover sheet template).
Save money – Utilising free fax cover sheets saves money, unlike premium ones. You can easily customize an existing fax cover sheet for your product and business.
Ease of usage – unlike other free products available on the internet, free fax cover sheets are extremely easy to use and customize. Since most of them are created in Word or similar programs, they can be easily edited and modified according to the client's needs.
Though the fax cover letters don't contain detailed information, yet they do promote your brand as you send fax messages. Use personalized fax cover sheets to your potential clients or suppliers and market your brand!