As an Access database user, you may face situations when your database files (.ACCDB/.MDB)get corrupted. The Access database files may get corrupt due to abrupt system shutdown, hardware failure, a bug in the MS Access program, or any other reason.
You may find several troubleshooting tips to repair or recover data from the corrupted file. However, these solutions may not ensure complete and accurate recovery of data.
In such situations, an Access repair tool such as Stellar Repair for Access turns out to be useful. By using this software, you can repair and restore .ACCDB/.MDB files while maintaining data integrity.
In this post, we'll discuss this software in detail and see how it helps repair corrupt Access database files without any data loss.
Key Benefits of Using Stellar Repair for Access Software
Demo (Free) Version
There is a free (demo) version of the Stellar Repair for Access software available. With the help of demo version, you can repair an .ACCDB/.MDB database file and preview its recoverable data. It helps you to evaluate the software functionality before purchasing the licensed software version.
Simple-to-Use User Interface (UI) for Quick and Smooth Repair Process
Stellar Repair for Access software's user interface (UI) is designed to help users repair the database without any assistance. The interface comes with stepwise instructions to assist you in fixing the corrupted database.
Repairs Severely Corrupted, Large-Sized .ACCDB/.MDB Files
MS Access built-in 'Compact and Repair' utility may fail to fix a severely corrupted database file. Also, the built-in tool cannot repair a file exceeding its permissible limit. With Stellar Repair for Access, you can easily and efficiently fix a severely corrupted Access database file. Also, it helps repair the file without any size limitation.
Repairs Access Database without Downtime and Data Loss
When it comes to repairing an Access database, running the repair process without downtime and data loss is of utmost importance.
The Access repair tool from Stellar® is designed to help users quickly perform the repair process without any assistance. Also, it recovers all the data from the corrupted .ACCDB/.MDB database files without data loss.
Recovers all Database Objects
The software recovers all the objects from a corrupted database, including tables, deleted records, pivot table, charts, chart cells, and properties. It also helps restore the relationship between the linked tables in an Access database.
How to Repair Corrupted Access Database with Stellar Repair for Access?
Before We Begin
Following are the minimum system requirements to download and use the software.
Windows OS: 10, 8.1, 8 and 7.
Minimum 2 GB RAM.
Hard disk with 250 MB free space.
Microsoft Office Access version: 2019, 2016, 2013, 2010, 2007, 2003, and 2002.
Steps to Repair the Corrupted Access Database using the Software
After downloading and installing an appropriate software version (demo or a licensed version), do the following to repair a corrupt Access database:
Step 1: Run the software. A 'Select Database' window will open. Select the corrupted .ACCDB or .MDB file using the 'Browse' button. If you're having trouble locating the file, use the 'Find' option to search and select the file you want to repair.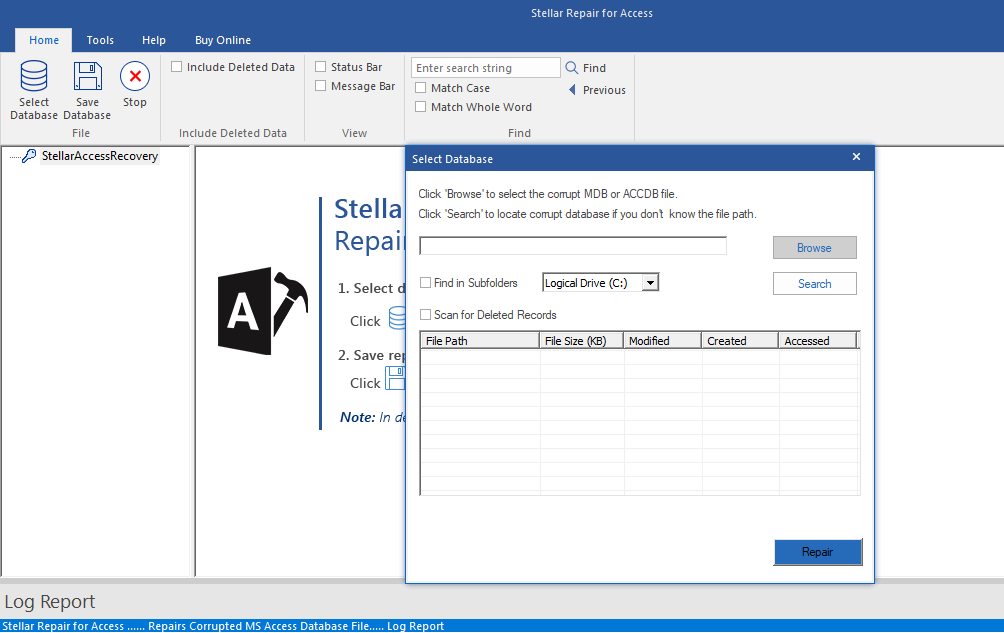 Note: Check the 'Scan for deleted records' checkbox to recover deleted records.
Step 2: Once the corrupted Access database file is added, click Repair.
Step 3: A 'Repairing Complete' message box opens on successful completion of the repair process. Click 'OK' to continue.
Step 4: The Access repair software displays all the repairable database objects in a tree-like structure in the left pane. Expanding the objects opens the child's objects. Next, click on any child object to preview its data in the right pane.
Step 5: Once you've verified the data, select the objects that you want to restore. Next, to save the selected objects, use the 'Save Database' option from the 'File' menu.
Step 6: When the 'Save At' dialog box appears, choose to save the repaired file to a default location or a new folder.
Step 7: Clicking on OK will present you with a 'Saving Complete' message box.
The file will be saved at your selected location. Open the file from the specified location and you may start working on it.
Watch the software working process from here.
Final Verdict
Stellar Repair for Access is a remarkably easy-to-use software that efficiently repairs and restores an Access database file (.ACCDB/.MDB).
Also, the features like 'deleted tables' recovery,' 'recovery of relationship between linked tables,' etc., make the software worth considering for users looking for a reliable solution to regain access to their Access database file and its components.