The solar power industry in India is deemed to be the third largest in the world. It has been growing and evolving since decades.
Newer technology is being used and manufacturing techniques are being improvised by best solar panel manufacturers in the country to meet global standards. The government of India is taking keen interest in this industry and doing its bit to contribute towards its growth.
Solar Panel Brands (Manufacturers) In India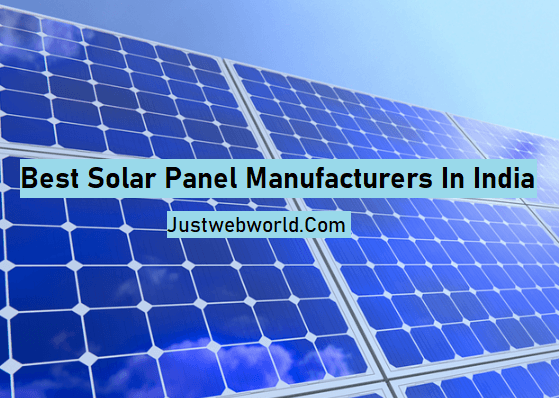 If you are keen to know about the companies that are working hard and smart to manufacture solar panels in India then read on. Mentioned below are the best solar panel manufacturers in the country.
Tata Power Solar Systems
A product of the esteemed Tata Group, Tata Power Solar Systems is undoubtedly one of the best solar panel manufacturers in India. It manufactures many solar products such as solar modules and solar cells among others.
The company provides solar solutions for individuals use as well as those suitable for big institutions and communities as a whole. Some of the biggest solar projects in the country have been undertaken and successfully accomplished by Tata Power Solar Systems.
It has been performing brilliantly ever since its inception and has emerged as the country's largest integrated solar player.
Loom Solar
Loom is a fast growing solar panel manufacturer in India. The company is based in Faridabad, Haryana manufactures high quality solar systems, solar panels, solar chargers and solar inverters. It makes use of the poly and mono crystalline technology to manufacture 10 watt- 340 watt solar PV modules.
The 1KW solar AC module manufactured by the company has the capacity to run an air conditioner (up to 1.5 ton), a refrigerator, fans, lights and TV simultaneously. This can be installed just about anywhere including homes, offices, petrol pumps and schools.
Photon Energy System Ltd.
Photon Energy System Ltd. was established in the year 1997. With years of experience, the company has mastered the tricks of this industry. It manufactures several solar products such as solar water pumps, megawatt solar power plants, solar water heating systems, solar thermal, solar photovoltaic and solar PV modules. These products go through several stringent tests and are made available to the customers only after they clear all the tests.
The Indian Renewable Energy Development Agency Ltd. offers financial assistance to the company. This strong financial backing has helped the company to explore and expand.
Azure Power
Azure Power came into being in the year 2008. It manufactures, develops and operates utility and commercial solar power plants. The very next year of its establishment the company grabbed attention as it developed India's first utility scale solar power project. It has become India's longest tenured producer of utility scale solar power.
It is known to sell solar power at a rate which is comparatively lower than its competitors. This solar panel giant has been listed in the New York Stock Exchange.
HHV Solar
HHV Solar forms a part of the SWELECT Group of Companies. It is known to manufacture high quality solar PV modules that meet the latest market standards. Their solar modules can withstand extreme weather conditions such as strong wind, snow and heavy rain. These are known to be corrosion resistant.
Waaree Solar Pvt. Ltd.
This is one of the oldest solar panel manufacturers in India. It was founded back in 1989. It offers high quality solar power solutions. The company is known to provide solar water pumps, solar rooftop solutions and EPC services among other solar products. Their DIY rooftop solar kit is particularly popular.
Waaree Solar Pvt. Ltd. has its presence in around 250 locations in the country. It also operated in 68 other countries.
Vikram Solar Limited
It offers a wide range of solar power products. It has particularly attained proficiency in offering comprehensive EPC solutions and manufacturing PV module. Vikram Solar enjoys a strong international presence. It has handled many solar projects in different parts of the country. It makes use of the latest technology to design, manufacture and install its products.
Amplus Energy Solutions
Amplus Energy is another known name when it comes to solar panels. It is known to manufacturing high quality rooftop solar power plants. It is not only known for offering excellent solar power products in India but is also doing an excellent job in other Asian countries. The company boasts of numerous clients.
Amplus Energy mainly provides solar solutions to commercial and industrial clients. It has been serving high end clients from various fields including automotive, retail chains, pharmaceuticals, malls, food processing and hospitals.
It offers a complete package of services that includes design engineering, procurement, construction, maintenance and monitoring.
Moser Baer Solar Limited
Moser Baer came into being in the year 1983. It launched two of its subsidiaries namely, Moser Baer Solar Limited and Moser Baer Photo Voltaic Ltd. Moser Baer Solar Limited is known to have established a strong foothold in the solar power industry.
It is particularly known to offer great solar EPC services and solar PV modules. It caters to individual clients as well as big firms. The Solar Lantern and the Solar Home Lighting Kit are among the two most ground-breaking products the company has launched for home use.
Kotak Urja Pvt. Ltd.
Kotak Urja has more than 18 years of experience in the field. The company has a team of highly skilled and knowledgeable employees who specialise in designing, engineering, manufacturing and installing solar power products.
The company mainly deals in solar photo voltaic and solar thermal systems. It also offers solar products such as solar water heating solutions, portable light, solar water pumps and rooftop solar solutions.