Many homeowners insurance policies include multiple protections. One of them is water damage insurance. You might be wondering what that even is.
Water damage insurance gives you protection in the event of accidental and sudden water damage. Typically, this coverage won't deal with a homeowner failing to maintain their home or being otherwise negligent. Given that, it might not automatically cover every case of flooded basement cleanup that you might be facing.
Also, flooding is a specific situation that isn't automatically covered by the water damage insurance. You usually need a rider for that added to your policy. You might even need a separate policy.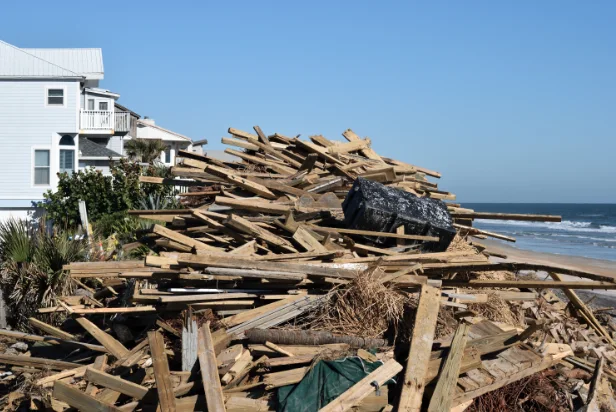 If you face a flooded basement cleanup, you're probably asking yourself three questions. First, how did this happen? Second, how do you get it fixed up? Third, can insurance cover it?
Your homeowner's policy might have water damage insurance. That coverage will help you with some forms of water damage, but not all of them. You'll have to consult your policy and your insurance agent to find out if it applies to any flooded basement cleanup you might be facing.
There are two categories of exclusions that are common to many water damage insurance policies. The first category is anything resulting from negligence on your part to keep up your home. The second category is commonly floodwaters.
What are eligible hazards for water damage coverage? Plumbing failures are usually covered. These can range from burst pipes to problems with your toilets.
Proper maintenance of your home is essential. Doing this will often prevent issues that can cost you time and money. For that matter, regular maintenance maintains a good quality of life.
You should also do it just because water damage insurance won't cover negligence. However, taking simple steps goes a long way. If you have a leaky pipe underneath a kitchen or bathroom sink, fix it before you wind up with mold. During rainstorms, keep an eye on your ceiling for drippage.
Water damage plays a heavy hand in homeowners insurance claims. Water has been the third-leading source of claims for many years. Those claims can easily average nearly $11,000.
The statistics can be a bit frightening. Water damage and freezing claims came in just behind wind and hail damage. Roughly 2% of all insured homes have property damage claims because of freezing or water damage on an annual basis. Water damage is five times more likely to instigate an insurance claim than theft and seven times more likely than fire.
When it comes to failures in plumbing supply systems, there are two frequent kinds of incidents that might happen. The first is frozen pipes. The second is a material failure.
In the case of frozen pipes, water pressure builds up when water freezes. Water is a molecule that expands when it's colder, which is why pieces of ice float in most beverages or the ocean. Inside a pipe, they have nowhere to go, and the pipe eventually bursts.
Supply system material failures can result in several different sets of circumstances. In some cases, you'll just get a leak, but in others, the pipes might burst.
Failures in plumbing supply systems result in many water damage claims. Even after a deductible, you might face bills in the thousands of dollars. These issues outnumber frozen pipe issues by nearly three to one.
Drain system failures can also cost thousands of dollars per incident. Finished basements might also suffer from sewer backups that are far less likely to happen on higher floors within a home. Toilet failures can result in water damage because the toilet might back up into your home, or the water supply line get clogged. Water heaters and supply lines for washing machines can also be sources of damage to your home.
You can prevent water damage to avoid triggering your insurance and paying the high costs and deductibles. Older homes should be inspected using a licensed plumber at five-year intervals. Older water heaters are good things to replace. Avoid using steel-braided supply lines for your washing machine, and consider disabling supply lines if the machine isn't being used. Never run a washing machine or dishwasher when there's no one home.
In cases involving water damage, there are three professional contacts you should have ready. One is your insurance agent about coverage and steps you might take to lower your premiums, the second is a plumber who can prevent and fix things, and the third is a restoration specialist if the worst happens.