So, you're in the market for a CRM for your small business. You may be looking for more information on what a CRM is or why having a CRM for your small business would be helpful. If you're wondering why a CRM is essential for small companies or what features to look for in a CRM, you're in the right place.
What is a CRM? For Customer Relationship Management, CRM software does precisely that: it helps manage your business's relationships with clients.
This means: storing client data, client purchase or subscription information, client business interactions (such as which content your client engages with and responds favorably to), meeting notes, appointments, calls, invoices, social media management, and more.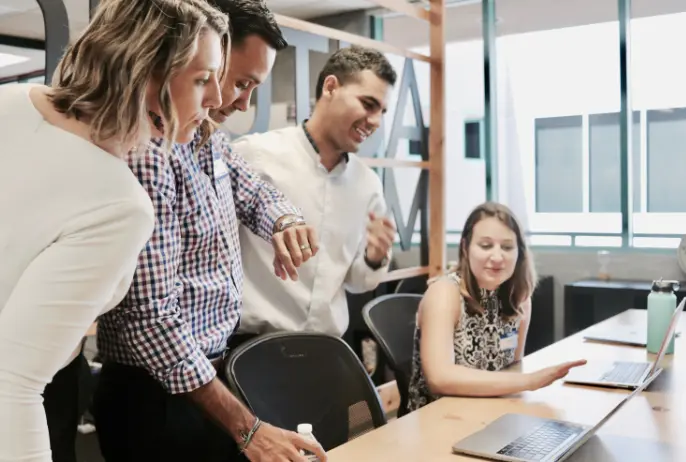 The CRM organizes, stores, and beautifully displays (in a user-friendly interface) a complete record of your small business's relationship with each client and prospect.
How Can Zoho CRM Help Small Businesses?
Let's look at how Zoho is one of 2022's best CRM for small businesses:
No More Spreadsheets…Ever.
Many businesses use spreadsheets because they are cheap and easy to use. However, there is no comparison between the spreadsheet and powerful CRM software to organize client data.
Firstly, manually entering client data into the spreadsheet is time-consuming and prone to human error. Then, you must ensure that the spreadsheet document is correctly shared between your team members: Did everyone get the correct file? Is it the latest version? Again – using spreadsheets is like asking for human error to slow you down. Relying on spreadsheets is not a good use of your time or resources.
At its core, CRM software can easily store – and beautifully display – all historical data and interactions with clients and prospects. But Zoho does even more than that. Zoho's powerful capabilities help you use that client data to discover what exactly causes your customers to pull the trigger – and then Zoho will continuously guide you to convert prospects into leads and clients, ramping up your sales and revenue. This is why Zoho is one of the best CRM for small businesses.
Everything in One Place
Zoho does it all, which is why it's the top CRM for small (and medium) businesses. Not only is it a great CRM software, it also integrates with Zoho Books for easy invoicing, Zoho Social for easy social media scheduling, and Zoho Marketing Hub for easy lead generation and email marketing.
But that's not all – there are also options to integrate with existing and popular tools like Mailchimp and Amazon Seller to ensure that all your business marketing operations are in one place using the most popular platforms.
Having all of your marketing tools in one place allows you to leverage the entire life-cycle of your client data: you can quickly review where your clients came from and how they found your business, what the clients clicked on while browsing your business's website or social media platforms, what event they may have registered for, what product or subscription they were considering, and what type of content they respond to.
This information can allow your small business's marketing team to create more targeted and effective campaigns. Zoho is among the best CRMs available for small businesses, not just a good one.
Easy Team Collaboration
It cannot be accessible when several employees in your company are handling customer data and need access to it once. However, CRM software makes this task easy. Every team member who needs access to that data has it – ensuring that operations are streamlined. This is especially important in the WFH environment when information is not centralized.
In particular, Zoho, in particular, excels by providing small businesses with incredible visibility into every aspect of their company. Zoho not only stores client data but also uses powerful AI tools to identify trends and discover opportunities for up-sells and future growth, from customer relationships to sales, marketing performance, and employee productivity.
As your small business grows, Zoho will scale with it-you can add as many Zoho users as you need.
Data Security
The ability to keep data safe and private is one of Zoho's most significant selling points. The data belonging to each client is logically isolated from that belonging to other clients. Zoho encrypts your data with Advanced Encryption Standard (AES), one of the most secure ways to do so.
Zoho also protects your client data with IP restrictions, two-factor authentication (2FA), and audit logs. These data security features protect your data from unauthorized access. Zoho boasts that with it, "your data is more secure than walking around with it on a laptop or even on your corporate desktop." Because of this, millions of users and companies entrust their data to Zoho.
Automation
What puts Zoho above the CRM pack is the ability to automate several processes, such as email alerts, reminders, schedule notifications, and other sales and marketing functions. Zoho can even create automated workflows, taking care of your clients.
This can save you a ton of time and keep you and your staff from performing tiresome manual data entry. For example, Zoho can automatically create invoices with your client's data already populated or complete and send email blasts reminding your client to purchase the item they've already placed in their shopping cart. This gives you the time and energy to do what's important-running your business.
Zoho CRM helps you make the most of your client data, and we can help you make the most of Zoho. The expertise of our Zoho CRM certified consultant will help your small-to-medium business leverage all the incredible tools that Zoho offers. The result:
Streamlining your operations.
Saving you time.
Improving resource efficiency.
It helps you turn prospective leads into clients-and clients into sales-and accelerate your revenue.
Schedule a free, complimentary discovery call with us to learn how Zoho can help you scale your business quickly, cheaply, and effectively.