What does the phrase 'best animated movie' mean to you? Well, this phrase has different meanings for different people. While there are few people who may instantly remember Disney movies or family-friendly cartoons that they've been enjoying since childhood, there are others who gravitate towards comic adaptations.
The only point of similarity that is common is that animations usually don't have live actions. In fact the best animation stories are those that narrate stories that you would never be able to tell through conventional live-action.
Netflix Animated Movies of All Time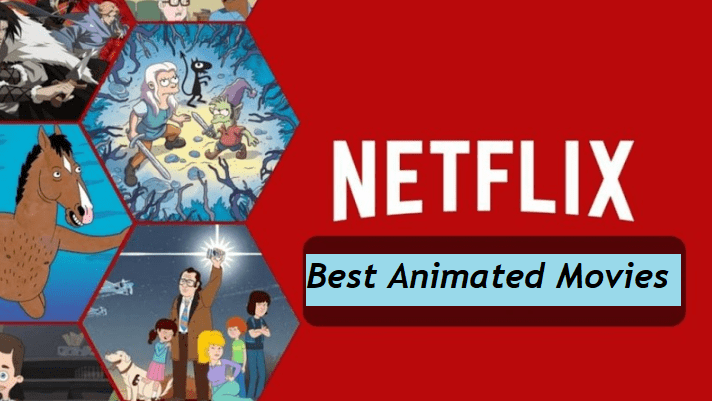 Animation includes an extensive category that comprises of lot of entertainment. While some animated movies are best for kids, some are best for adults and some others are just perfect for all.
You can experience the world of fantasy, events that are otherwise impossible and sci-fi battles. We've compiled a list of the best animation movies that you can binge-watch on Netflix right now.
Monster House
Who doesn't remember a story about a haunted house in their neighborhood? We all do, but this story is definitely scarier than yours. In this story, there is a house that lies across the street from DJ and this belongs to a monster. The house is owned by a malicious creature that requires feeding on humans.
With the forthcoming Halloween celebrations, the house plans to celebrate along with the children in the neighborhood. They land up to DJ with his friends, Jenny and Chowder to get to know the source of defeat and power of the house.
The Monster House is a comedy film with several spooky things in between. Overall, this is a fun film that has the power of captivating all viewers irrespective of their age.
The Castle of Cagliostro
Hayao Miyazaki, who is touted to be the legend of animation, debuted with this film called The Castle of Cagliostro. This also marks his entry to the franchise called Lupin III.
If you're someone who is not acquainted with this one, The Castle of Cagliostro chases the thief called Arsene Lupin III who happens to be the grandson of another iconic thief (who is also a gentleman), Maurice Leblanc.
The action progresses smoothly from one scene to the next with the enthusiastic touch of Miyazaki. This animation film is also watchable by viewers of all ages.
The Little Prince
This entry is a 3D animated film that utilizes latest technology along with stop-motion animation to reignite the bedtime classic published in 1943. The young girl in this story was coerced by her mother to embrace a life that demanded full time work.
On being tired after dealing with such work pressure she was overwhelmed on meeting a neighbor next door who was called Aviator. From him, she learns the story of The Little Prince who supposedly lived in space. This movie is a Netflix Original and hence you can watch it anytime sooner or later.
Spiderman : Into the Spiderverse
This movie won the Best Animated Feature at the Oscars 2019 and it is a breakthrough on both storytelling and technical periphery.
This film isn't set in the conventional Marvel Universe and it deals with the narration of Miles Morales, who has been granted the powers of a spider after being bitten by a radioactive spider.
Later on Miles Morales teams up with Peter Parker (hailing from alternate reality) to win a battle against Kingpin. This animation feature is not only heartwarming but funnier and fresher than the other Spiderman movies.
My Life as a Zucchini
This is one among the best foreign animated films that you'll get on this list. This is a Swiss-French animation film which is a story that speaks about a boy named Zucchini who is an orphan and who resides in a foster home. This film has luckily been nominated for several awards not to mention the Oscars as well.
The storyline might not be perfect for the younger generation but it is definitely a must-watch for teens and tweens. They get to learn a lot on real-life situations that may suddenly come on people like suicide, alcoholism, drug addiction etc.
Godzilla: Planet of the Monsters
This is one such animation film that has been specifically made for adults and it is a Netflix Original film. In the Godzilla franchise, this is the 32nd film and it also happens to be the first-ever in the animation series.
In the film, Planet of the Monsters, when the plan to fight against Mechagodzilla and Godzilla fails, humans abandon the Earth, Godzilla: The Planet of Monsters follows the consequence of this decision. This film is in Japanese but there are English subtitles for smooth viewing.
The Breadwinner
The Breadwinner is another noteworthy directorial feature from Nora Twomey. This animation movie was released in the year 2017 and later on was suggested for Best Animated Feature in 2018.
The storyline deals with the story of a girl living in Kabul, named Parvana, when the country was controlled by Taliban. When the family of Parvana was surviving without a male person, they were not able to evacuate their house as per Taliban law. The film received enough acclamation for both its animation and story.
Klaus
Klaus is the very first animated film on Netflix and it is an entertaining story that originates from the story of Santa Claus. The story speaks about a postman who was allotted to a Scandinavian town and his sudden friendship with a hermit leads to several events that create a marvellous toymaker.
Jason Schwartzman has lent his voice and Norm MacDonald, Rashida Jones, J.K Simmons and Joan Cusack have stood out with their stellar performances.
So, now that you have all the time and resources, what are you waiting for? Start streaming your Netflix account and indulge in the best animated experiences.
If you have a list of some other animated movies that you've enjoyed watching, do leave the names and their stories in the comments section. Have a great watch peeps!
You may like.