Adolescence or teenage is the time when a kid can either destroy his life or ameliorate it. This is the time when you have to choose among the good and the bad road. Living in a digital era, internet has the biggest influence on a child's mind.
FamiSafe – The Most Reliable Parental Control App
The internet is stuffed with things that might not be appropriate of children of certain age. This is when parents have to guide their children and show them the right path.
Parents are often seen to use spying apps to keep a secret watch on their kids. But are they worth it? Are they reliable enough?
FamiSafe is one such parental control app that lets parents track location, control screen time and identify inappropriate content on the gadgets of their kids. Scroll down for a review of FamiSafe.
1] Introduction to FamiSafe
When you don't know what your kids do online, you're always at a state of anxiety and paranoia thinking of the worst. This is why using digital spying apps like FamiSafe is probably the best way out.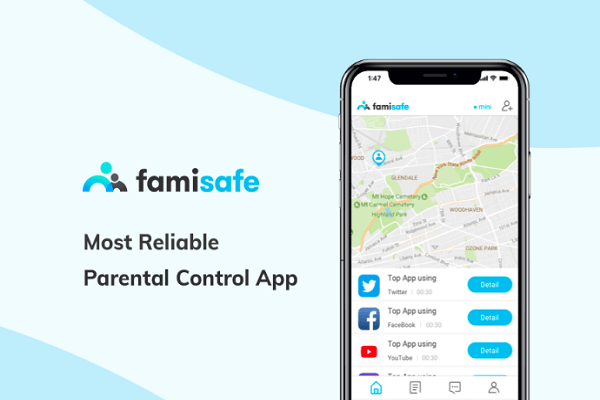 FamiSafe parental control app launched by Wondershare and it is touted to be one of the most reliable apps in the market. From handling screen time to filtering content that is inappropriate for an age, FamiSafe offers you total control over the phone of your child.
2] The handy and valuable features of FamiSafe
The first thing that encourages parents to spend their money on an online product is the host of features it has to offer. From the perspective of features, there is no other spying app that can compete with FamiSafe. Here are the key features.
#1: Instant alerts on abusive adult content
The most talked-about and effective feature of FamiSafe is it detects explicit content. This is the best way of keeping your kid safe from all the wrong content on apps like YouTube. Once these things occur, you will get messages 'issues found' under the section called Explicit Content Detection.
FamiSafe is also great in finding out content with wrong words. You may add the words which you want your child not to learn through the tool Add Suspicious Word. However, all this is supported only by Android users as iOS users will unfortunately not get this feature.
#2: Tracks location real-time
Are you constantly worried about the whereabouts of your child? If yes, you needn't fret anylonger. With the function called Real-time Location, you can spot the exact spot where your kid is.
It doesn't just tracks your location but also gives you details on the battery life of the child. If you find the battery to be too low, you may ask them to return home.
#3: Geofencing
As far as location is concerned, FamiSafe has more to offer. By the word 'geofencing', 'geo' refers to geographical and 'fencing' refers to making an obstacle.
Hence, this feature creates fencing on the locational borders that are set by you. If you don't want your kid to cross a certain area, you can create fencing through the geofencing feature.
#4: Blocks apps
iOS App Store and Google Play Store has replete apps that are effective for your children but at the same time there are bad apps too. FamiSafe knows your concern and hence it offers you the function called app-blocker.
If you're an Android user using FamiSafe, you can block all apps that you don't want your child to see. Even though he tries to open, it'll show 'Blocked'. If you're using this feature on iOS, you get to block certain apps according to your kid's age.
#5: Monitors activity
Do you want to know which app your kid uses for the longest time period? If yes, you have to use the Activity Monitor feature. Through this, you get to see all the apps that your child has been using. It even tells you the time throughout which he has used each app.
#6: Tracks screen time
This feature lets you track the time for which your kid has been using his smartphone. You get to know the average time for which he used his phone and it offers statistics for the last 30 days. The apps are segregated into 3 categories – Editor, Video Players, Action and Others.
3] Simple and easy steps to start using FamiSafe
Once you open the app on your device (parent's phone), you need to sign up by entering an email ID along with a strong password. Here are the steps that you need to take to start using FamiSafe.
Step 1: Open the website of FamiSafe and register an account with them. You may also download their app from App Store or Google Play Store.
Step 2: Install the FamiSafe app on your device (parent) as well as on the device of your kid.
Step 3: Connect to the app and start managing all the connected devices through the dashboard of FamiSafe or through the web portal.
4] FamiSafe – Subscription
FamiSafe is a parental control app with versatile pricing plans through which you can satisfy your diversified requirements:
$9.99 per month.
$19.99 per quarter.
$59.99 per annum.
You won't literally find any android parental control app with so many features at such a low price. FamiSafe also accepts all types of cards, Visa, American Express, PayPal, MasterCard and other types of cards as well.
5] Additional Features
Apart from the list of above mentioned features, few other additional features are.
Free Updates for the rest of your life till the time you use this software.
7-day Money-back guarantee if you don't find the app useful.
Supportive customer care service where their representatives are happy to help you.
Supports multiple devices simultaneously through a single plan.
FamiSafe Parental Control App - Android
FamiSafe Parental Control App - iOS
Parental Control App FamiSafe - Amazon
Conclusion
After going through the review of FamiSafe, it can be safely concluded that it is the best monitoring app that a parent can ever get. It is also an inexpensive option as set against other competitor apps.
Invest your money on FamiSafe without any second thought if you have to keep an eye on your child.
You might like.