What's Bollywood without romance! As long as Bollywood romances are involved, it was always about dancing around trees or the traditional boy-meets-girl format. However, over time, the format has gone through a major overhaul as the scripts have changed for the better.
Best Bollywood Hindi Romance Movies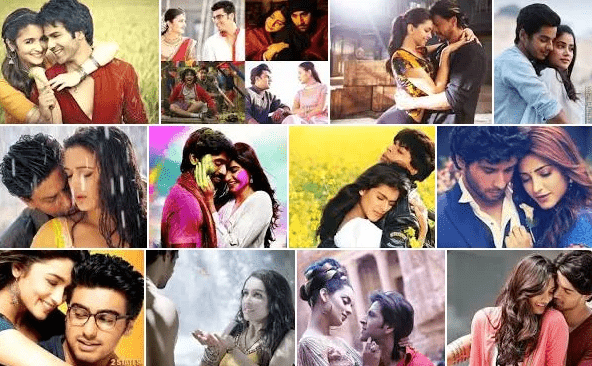 Now the feelings that could not have ever been described or defined have found their way into the characters. Here we'll make you familiar with 15 of the best Bollywood romances.
1] Yeh Jawaani Hai Deewani
This movie presents to you a refreshing and new take on romance, life, love and friendship. As DDLJ was of that generation, Yeh Jawaaani Hai Deewani is of our generation.
This film showed how you can fall in love, stay in love and still not be bound to sacrifice your passion, irrespective of your gender. Ranbir Kapoor and Deepika Padukone played the main protagonists.
2] Dilwale Dulhaniya Le Jayenge
You talk of Bollywood romances and you can't complete the list without mentioning DDLJ. This is a cult film in the romance genre under the Yashraj banner.
Shah Rukh Khan and Kajol fall in love with each other and go through turmoil in their relationship due to the wish of her strict father to get him married to a spoiled brat. This is a Bollywood classic.
3] Mughal-e-Azam
If you're talking about classic, you can never forget the romantic classic tale of Mughal-e-Azam. This is a Bollywood movie that told the story of Anarkali and Prince Salim and how their ever-lasting love and respect for each other led to a civil war.
Through this war, a total empire was spoilt. They were successful in uniting all lovely couples who could stand up for themselves and say, "Pyar Kiya toh Darna Kya".
4] Kuch Kuch Hota Hai
Kuch Kuch Hota Hai was directed by Karan Johar and it has everything that was needed to build a tale of friendship, romance, jealousy, sacrifice and true love. Anupam Kher played a comic relief and his dialogues and antics will send you into fits of laughter. This is also a cult film in the romance genre.
5] Jaane Tu… Ya Jaane Na
This is a story of best friends in college, Aditi, a highly combative girl and Jai, the most non-violent person ever.
Though they dreamt of settling down after completing college but they never thought of doing so with each other. They never realize their feeling for each other until Jai finds a girlfriend and Aditi begins to miss his company.
6] Jab We Met
This is probably one of the best movies made in Bollywood by Imtiaz Ali as it taught us new ways (showed by Geet) to laugh, love and live life.
As you watch the movie, you could instantly relate with Geet, the bubbly Punjabi girl who emotionally supported Aditya in getting over hsi break-up. Her character is of a sort that everyone would need in their lives.
7] Veer Zara
This is a love story that transcended geography and time, thereby making the love story eternal for Veer and Zara. The movie will melt your heart even if you're not a romantic.