They say the way to someone's heart goes through their stomach, and rightly so. Material things like cars, clothes, jewellery may come and go, but good food and drinks are two of the simplest and timeless pleasures that people all over the world, from any walk of life, equally enjoy.
But elite taste has a twist of its own in the form of the singeing taste of pricey dining. If you're a seasoned epicurean, you'd know that gourmet restaurants with the finest of menus are steeply-priced. Quality dining multiple times a month can burn a hole in your pocket when you're not really earning a six-figure monthly salary.
Best Dining Credit Cards In India 2021
So what to do as your tummy rumbles for an evening of sautéd delights with swigs of smooth, sparkling drinks to wash them down, but your budget holds you back? Don't worry, we have a solution for you.
Credit card vendors are sympathetic to the culinary cravings of their users, and almost all of them run dining programmes, and even have designated dining cards in their quiver.
These not only bring you the conveniences and many benefits which entail a credit card membership but allow you to have a sumptuous meal without worrying about the budget by offering mouth-watering deals on dining bills, delicious vouchers, sizzling cash-backs, with a sweet aftertaste of reward points.
Here, we've handpicked the best credit cards in India for dining.
HDFC Regalia Credit Card
One of the best in the business right now, the HDFC Regalia credit card is a luxury credit card by HDFC Bank.
Perks:
12 international and domestic lounge visits permitted, with Priority Pass membership optional.
Exclusive 24×7 Concierge Service to cater to your personal needs, anytime, anywhere.
Reward Points on every spend of Rs. 150
Complimentary Zomato Pro membership for the first year.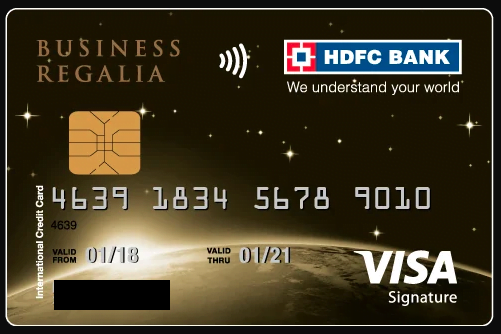 With a nominal annual membership fee of Rs. 2500 per annum, this card is a gift for travellers and foodies alike. You get your money's worth with the complimentary airport lounge access, while at the same time, you get a free Zomato membership for the first year.
If that didn't satisfy you, there's the HDFC Good Food Trail programme just teeming with deals that'll leave you wanting more. This credit card programme levies a 15% discount rate for dinner bills.
Those earning more than Rs. 70,000 a month, or filing an Income Tax Return in excess of Rs. 8.4 lakhs per annum are eligible to apply for this credit card.
Kotak Delight Platinum Credit Card
The Kotak Delight Platinum Credit Card is aimed at those who spend in excess of Rs. 5000-6000 per month on dining outside. The card is suitable not only for dining but also for shopping and other needs.
Perks:
Up to 10% cashback on dining.
Up to 10% cashback on movies.
Works anytime, anywhere.
Railway surcharge waiver if you book tickets online. Maximum waiver permitted is Rs. 500.
Fuel surcharge waiver on fuel spends ranging between Rs. 400-4000. The surcharge waiver on fuel is capped at Rs.4500 per annum.
Delight Shield to cover your losses in case your card gets stolen. The amount received by the holder is Rs. 1,25,000 against fraudulent usage.
The Delight Platinum's 10% cash back on dining and movies is available only if the user spends Rs. 10,000 a month on categories other than Restaurants and Entertainment.
The maximum cashback permissible is Rs. 600, and transactions up to Rs. 4000 are eligible for the cashback benefit. Moreover, spending of Rs. 1,25,000 in 6 months makes the user eligible for receiving 4 PVR tickets with Rs. 750 worth of cashbacks.
While there are no income eligibility criteria to avail this card, the applicant needs to be a resident of India. The joining fee is Rs. 1999, while the annual fee is a nominal Rs. 299.
RBL Cookies Card
The RBL Cookies card is not just delightful when it comes to its design, but its features are astonishing as well. The vibrantly colourful card puts a smile on your face and carries benefits which make you smile all year long.
Perks:
Welcome gift in the form of an Amazon Pay card worth Rs. 500 on your first spend within 30 days of card membership, and the RBL credit card payment of the membership fee.
10% off on tickets from BookMyShow, 10 times a year.
Dine your heart away with a 10 times a year 10% discount on all your Zomato orders.
Travel carefree with your Uber bill reduced by 10% for 10 rides a year. The maximum cashback permitted in this benefit is Rs. 100 per ride.
To avail the BookMyShow discount, the user has to spend Rs. 10,000 a year. Likewise, the Zomato discount and the Uber discounts are unlocked after spends of Rs. 30,000 and Rs. 75,000 a year respectively. The best part, these offers are renewed with each year, so swipe on to earn these benefits the next year, and the year after that, and so on!
Oh, lest we forget to tell you, the most titillating offer is a free annual Zomato Gold membership you get with an annual expenditure of Rs. 1,50,000.
HDFC Diners Club Card
As the name suggests, the HDFC Diners Club cards are for those who enjoy luxury. This line of cards is one of the most premium ones in the country, and offer a range of benefits depending on the card you choose.
The one we're talking about here is the HDFC Diners Club Black Credit Card. The card comes with prestige and a formidable array of privileges which let you enjoy the finer things in life.
Perks:
Complimentary membership to the best of

travel

and food clubs like MakeMyTrip Double Black, Zomato Gold, Amazon Prime for your entertainment, and Club Marriott for your stays.
Spends above Rs.80,000 a month make you eligible for complimentary vouchers for TataCliq, Cure Fit and many more partners.
The ultimate golfing access 6 times, all over the world.
A dedicated Concierge service, reward points times 10 for spends at partner brands, and 2 times reward points for weekend dining.
In accordance with its target demographic, the card comes with a steep joining and renewal membership fee of Rs. 10,000 per annum, but in all likelihood, it's worth every penny.
Axis MY Zone Credit Card
The Axis MY Zone credit card is a fit for everyone – the shopper, the movie buff, and the foodie. If you're all of the above combined in one, the card is the perfect companion for you.
Perks:
Up to 20% off on partner restaurants with names ranging from fast food joints like KFC and TGI Fridays to exotic dining joints like Sun and Moon Korean restaurant under the Dining Delights programme.
Up to 25% savings on shopping from Myntra, and Rs. 1000 worth of savings on the same as a welcome offer.
1 complimentary lounge access within India per calendar quarter.
25% cashback on Paytm movie tickets. The cashback cap for movie tickets is Rs.100 per month.
Convert purchases worth Rs. 2500 and above to easy-to-pay EMIs.
The joining fee of Rs. 500 is waived with an expenditure of Rs. 5000 within the first 45 days and the renewal fee of the same amount starts from only the second year.