It's a fact that images are processed in the brain faster than words. They are increasingly important for social media success. 4 years ago, nobody knew what an infographic was. Now, it is widely used for marketing by transforming the complex information into images that are both visually appealing and easy to grasp.
People usually think that making of an infographic is a very challenging task and might require tools like Photoshop, Illustrator, etc. But, times have changed! To create something beautiful, you need not require professional tools mentioned below. There are plenty of tools available online which can help you make an infographic without any hassle. And the best part is you don't need to incur a penny or hire an expert to design it. These tools are user-friendly and, anyone with the data can build a visually appealing infographic easily.
Infographic Tools:
Here are the 5 tools that anyone can use to build a visually appealing Infographic:
1. Piktochart:
With just a few clicks, users can convert a tedious data into a beautiful Infographic. Piktochart is by far the finest tool for creating an infographic. It has features which enable a non-designer to design in a professional way. It has a flawless customizable editor. User can modify fonts, color schemes, and insert images. It also provides them with pre-loaded graphics, images & shapes. The opacity of each can be controlled as well. Piktochart provide users with block templates, where the data needs to be inserted in blocks. The advantage of this is every time users want to change the data they only have to select the block where the appropriate changes are needed. There is no need of playing around with other data. Its grid lines make it very easy to resize pictures and align them with the relevant data. Apart from that, excel sheet data can also be inserted through which graphs/pie charts are created. The completed infographic can be exported in three formats: JPEG, PNG & PDF. The sizes available are A3, A4, A2, & WEB.
2. Infogr.am
Infogr.am is a great free tool to create an Infographic. Its platform has seen more than 800,000 infographics created till date. It has power packed features. There are more than 40 different types of charts available through which the data can be depicted. Customizing the data takes place in an excel type spreadsheet which can be easily edited. XLS & CSV files can also be imported. After finishing the Infographic, it can be published on the social media sites and the Infogram website where other users can see the infographic.
Read: Top 10 Graphic Design Softwares
3. Easel.ly
Easel.ly has a drag and drop, theme based approach to create an Infographic. It has a very simple interface. Initially, it came with just 10 themes. Now, there's a variety of themes available. Users get access to plenty of things like arrows, shapes, lines and can customize texts, fonts, etc. Pictures can also be uploaded to make the data appealing.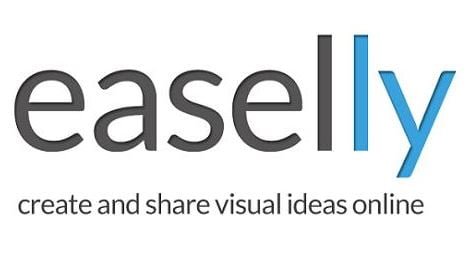 4. Visme
Once known as EWC Presenter, this one is a tool from Easy Web Content (a website creation & hosting service). This tool makes it very easy to create banner graphics, slideshows and interactive infographics. Slideshow creation and banner creation stands out from others making this tool flawless. Infographics created out of this tool are simply amazing. It allows to add animation within the infographics. Audio files are supported too.
Read: CEO Infographic
5. Canva
This tool makes it easy to create flyers, banners, infographics and photo collages. It uses drag and drop approach. Users have to select from templates, add backgrounds, pictures, text, etc. Canva consists of huge archives of clip art and pictures. Infographics can be exported to PNG & PDF files.
There are many other tools out there online, but the above mentioned stand apart due to their whimsical features. Infographics are used widely by enterprises for marketing purpose. It is the new trend which everybody is starting follow. Infographic can have a lot of impact on the targeted people if designed creatively and strategically. Next time you want to create an infographic, visit any of the above mentioned online tools. Create your own infographic the way you like!
This Article in Contributed By Ankit Dudhwewala. He is the co-founder at SoftwareSuggest.Com, a business software discovery platform made for Indian companies. He is a marketer by passion and a salesman by heart.