We all are know that Truly Event Based Blogs are the Main Resources of the Earn $XXX. Before a Some days ago I was finding out the way to earn some $$$ from the Internet and I know that Many Peoples are Earn Some good money by starting the Event Based Niche Blog. By the Way I was only working on the One blog, But after starting the event based niche blog I learned lot's of things about the SEO and Internet Marketing.
I Know that moment before a some days ago Vinay tell me, "Hey Bro Why you are not starting the Event Based Niche blog, You can Earn Some Good Money from It. You Just Start the Event Based Blog and I will tell you what you do." and after Heard a Good sound from the Vinay I decided that I will start the Event Based Blog this time. My Friend Imran, Vinay and Sangram are help me a lot on Event based niche blog. Thank You Brothers!! I started a Blog On 10th June on Father's Day. The Father's is On 15th June. Without Wasting time Let's See Everything What I do for Event based niche blog. 🙂
Event Based Niche Blog
How It Started?
I Was Mainly working on Only on One Blog, but this time I thought of doing something big. My main goal was to drive maximum possible traffic to event based blog.
It Was not about Earning But Traffic. 🙂
In a June Month I was Searching for the Highly Searched Traffic Event and I found the Father's day. I decided to work on It. Then I was starting a work on finding a good keyword. I choose a Domain Name www.happyfathersdaymessages2014.com. Most of the People Think that Google penalizes exact match domains but that's not true.
On Page Optimization:
Firstly I choose a Blogger Platform for Father's Day Blog. Actually Both Blogger and WordPress are working well. But The Blogger provides a good facility like Free Hosting and Security. So I choose a Blogger Platform.
In On Page Optimization I mainly focus on the Keyword. I use a Keyword Most of the time. I use a Keyword Mainly On Title, Permalink, Content and In Images Alt and Title tag. That's It. Make Sure that update More and More Content Related to your domain that you have taken.
I select some low competition, medium competition and also high competition keywords, then wrote articles with rich keywords which have good number of searches on google. Also Use Social Sharing buttons on Post, So Users Easily Sharing your post.
Link Building – Off Page Optimization:
One Thing Must Keep in Mind that If your On Page Tactics are not properly then no matter how much link building you do, your blog won't get traffic.
I Decided to Rank My Home Page well Instead of the Internal Pages.
Then I started link building(Off Page Optimization) to my homepage itself with the keywords like "Father's Day Messages" and "Father's Day Messages 2014".
I done with 1.3K Backlinks, I got a Mainly Backlinks from the Social Media sites, Blog Commenting(nofollow/dofollow), Forum Posting, Social bookmarking sites list, Directory submissions, Web 2.0 Sites and Got Some Backlinks from the Blogs. That's It.
Here are the Results.
After Done with The On Page and Off Page Optimization, I Surprised On Event Day Blog.
Check out the Below snapshot's of Blogger and Google Analytics. I got More then 50K Traffic In One Day.
I got More then 180+ Online Real Time Visitors, But I have no Snapshot available. Check out below snapshot.
On The Event Day I Keep Building a Links and Updating a content, On The Event Day My Blog was Ranked On the First Page. Check out the below snapshot.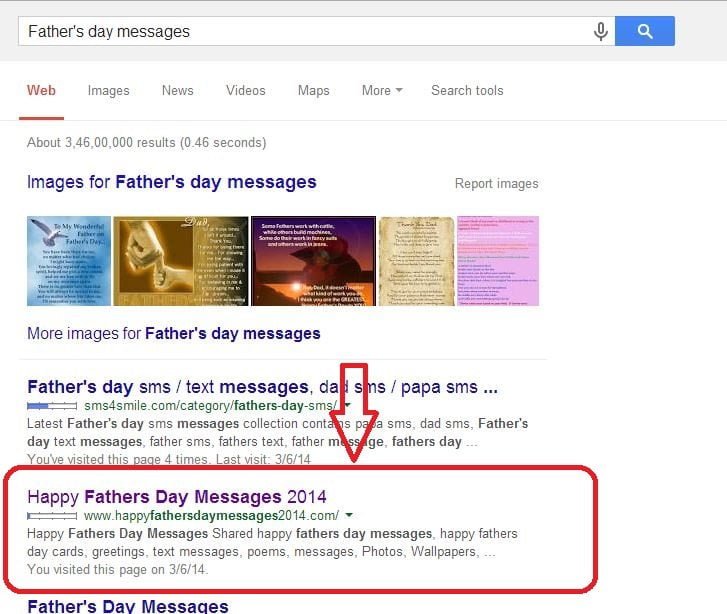 That's It Friends. It's all about My Event based Niche Blog. Now It's Your Turn to Start Your Event Based Niche Blog and Keep Rocking.!!
Final Word:
For Ranking a Event Based Niche Blog and Getting a Good Traffic from It. The Main Thing is a Update a quality content, Keep social sharing, do On page optimization perfectly and start building a Links from social media, Social Bookmarking, blogs, directory submissions, Blog Commenting, forum posting and web 2.0 sites.
Enjoy Friends..!!