Pimples, acne and blackheads are the normal skin problems in people nowadays. To be specific, the blackheads are the symptoms of acne and pimples. And the acne, pimples are the problems of skin inflammation. More people than you think have experience with this. If you have blackheads, you would want to learn more about comedone removal from a trusted source. If you are dealing with scars, you will want to look into smoothing creams.
I will be talking about the blackheads towards the mid-half of this article. So, if you are finding the solution to your question how to get rid of pimples, acne scars, and blackheads overnight , then here I have got a perfect answer for you all.
How to Get Rid of Pimples and Blackheads Naturally
But what I feel that before investigating the ways to get rid of them, it is really important to know the causes behind them. I know you might get little bored of reading such a long article and thus, I have a plan to talk about everything in short other than the solution to get rid of pimples, acne scars and blackheads.
Causes of Acne and Pimples
Pimples and Acne occur when the skin is blocked with bacteria, oil or dead skin. The skin pores are opened to a follicle and follicle is made of an oil gland and hair. The sebum is released from oil gland which travels up to the skin. It keeps the skin soft and lubricated, but acne occur:
Follicles produce too much oil.
Accumulation of the

dead skin cells

.
Building up of bacteria in the skin pores.
How to Get Rid of Acne and Pimples Fast
Papaya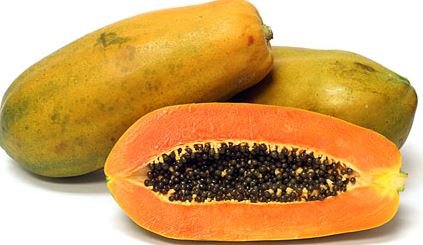 You can apply papaya juice on the acne and pimples to make it as an exfoliating mask for your face. Papaya has enzymes and is an antioxidant which is rich in Vitamin A. It helps in reducing the skin inflammation and makes it soft and smooth.
Cucumber
Cucumber is a vitamin and potassium-rich source which provides a cooling and soothing effect on the skin inflammation. You can grind cucumber and apply it as a face mask which helps in cleaning dirt and bacteria from your face.
Baking Soda
You can apply baking soda paste on the affected areas and it provides exfoliating to the skin. It removes the dead cells from the skin and is a really effective remedy to get rid of acne and pimples.
Tea Tree Oil
Tea Tree Oil has antibacterial properties and is considered to be the best home remedies for getting rid of acnes and pimples. It fights against all the skin problems and has got soothing properties. It even helps in drying up the blackheads.
Toothpaste
You can use toothpaste for getting rid of acne and pimples. Avoid using the gel toothpaste and apply the white one.
Blackheads are the small bumps, a skin problem which is actually caused by the clogged hair follicles. This problem is caused by oxidation. It is a form of acne, but it is the easiest one to treat easily. Yes, it is so easy that you can get rid of blackheads by following few home treatments as well. The home remedies for removing blackheads are not only affordable but even safe and effective.
Causes of Blackheads
People are unaware of the causes of blackheads. The few basic causes of blackheads include lots of makeup, excessive smoking, too much caffeine and alcohol. I'm listing out 5 major causes of blackheads which include our daily habits.
Stress
Everyone is familiar with the word 'Stress'. Am I right? A daily dose of stress not only gives you gray hair but even blackheads to your skin. The reason between the two hasn't been determined, but all I can say that if you are under stress, then you won't be able to give a caring hand to your skin.
Eating Habits
You better know that what you are is what you eat. The relationship between your eating habits and blackheads makes absolute sense because sugary, fried foods and carbohydrate-rich diet have a big impact on the skin.
Makeup
Do you know that sleeping with your makeup on can clog your pores? Yes. Makeup is considered to be one of the major causes of blackheads because cosmetics are harmful to your skin. So, you need to be really careful while choosing makeup for your skin.
Caffeine and Alcohol
Caffeine and alcohol have an extreme effect on the skin because the caffeine's stimulants affect the skin oil glands and alcohol affects the sleeping pattern. If you really want to get rid of blackheads, then cut caffeine and alcohol from your diet.
Smoking
Smoking is not only associated with blackheads but even acne. It damages the skin's surface leading to more blocked pores and dead cells.
How to Get Rid of Blackheads Naturally
Use Tomato Juice
Tomato has antiseptic properties which help in de-clogging the pores. This remedy helps in drying up the blackheads and they fall from the skin naturally.
Use Lemon Juice
Lemon has antioxidant and antiseptic properties which make it one of the best remedies for removing blackheads from face and nose. You can add water to lemon in order to make it dilute and add a pinch of salt to it. It will help in drying up the blackheads and your skin will be more glowing and clean.
Use Egg with Honey
You can apply egg and honey paste on the blackhead area and use warm water to rinse it. This method will make your face clear and glowing.
Your skin protects you and loves you, and you do the same. In fact, you do your best for protecting your skin from any damage. You start hating your skin, when ugly acne scars, pimples and blackheads appear.
You just have to be patient and find a speedy solution to get rid of acne scars, pimples and blackheads with minimal efforts. Remember that your skin lives in you and you live in your skin, which will never go to change. Just take the best efforts and care to bring back your confidence with glowing skin. :)