Use Master Page in Asp.Net
Master page is a First thing when you started your own project in Asp.net. The Asp.net is provide many facility for develop your own project. Last Framework is 4.5 for Asp.net that is come with many features. This is my First post on the Asp.net Tutorial. I hope that this post is very helpful to you. When i started my online shopping project i need a master page and first i set a master page than i go further for project.
The Master page is use for the Define the structure or layout of your website.This is Merged the Content page into the master page.The Master page never run on the Asp.net.we always run the content page that is come with the master page.Here we discuss all the steps for implement the master page in Asp.net.
Steps For Use Master page in Asp.Net
First of all Right Click on the New Project than u see the below screen.
Then you select the master page and Click on Add button.The extension of the master page is .master and by default name is MasterPage.master.after you see the below code of master page.
 After adding master page you can create your layout of your website.this page u design in html and you can use also CSS file in that by just adding StyleSheet.
than add the Content page that you merge with the master page.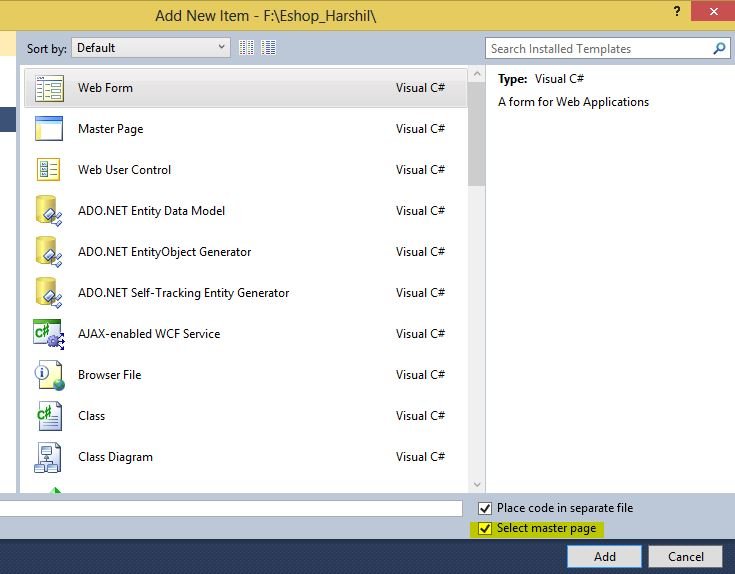 Simply add the Web Form and Check the box Select master page so this page is merged with the master page.After you design your content page simply run Content page.Here i design register form.you can define your own structure or layout of your website by using the master page in Asp.Net.it's unique for all pages.
So in this way you can use the master form in Asp.net.I hope that you enjoy this Post.
Don't forget to read :- How to Install WorPress On HostGator